Example chart to guide your transition team and timeline.
It is important that you don't under or overestimate your timeline for migrating giving systems. Depending on the complexity of your current system, integrations and more, it could take as little as 48 hours once you actually press play. But the timeline for switching giving platforms isn't just about the technical process.
You want to ensure that your leadership first, and congregation second, feel informed and are prepared to give in a new way. This may mean that you extend the lead time to allow for a few weeks to cascade the information from leadership down to your people. If you hurry this, it may undermine adoption.
The timeline chart example below is broken up into three stages, then divided between three teams: Administrative/Financial, Communication/Media, and Pastoral. This fosters ownership of the transition process beyond just the folks that implemented the software change at your church or ministry. Tasks have been divided amongst the three teams based on traditional roles and responsibilities (i.e. Admin teams handle data transition, while Communication teams send email communication, etc.) , but feel free to adjust based on team size, priority, or bandwidth.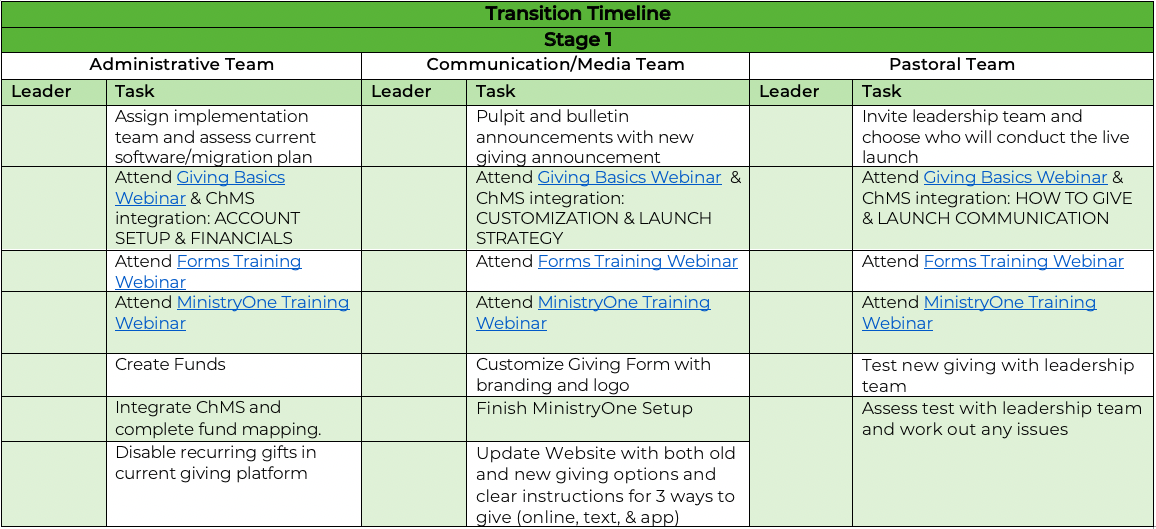 Although it is not required, it is highly beneficial if all members of your team attend our complimentary Training Webinars. The links included in Stage 1 above can be found in the Training Tab of your Manager Portal.
Updated