Choose your organization's giving number and form accessibility!
Selecting your Text Giving number is simple!
Just a few quick steps and you're done!
Video Overview
Pro-Tip: See our Text Giving Promotional Video to understand the donor experience. You're welcome to download and post this video on your website or link to it as a reference.
Text Giving Setup
Navigate to your manager portal, click the Gear ⚙️ icon in the top right corner to access your primary account Settings, and select the Text Management card.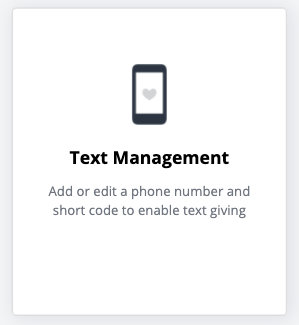 For a 10-digit text-giving number, click ➕ in the Text Giving Numbers section.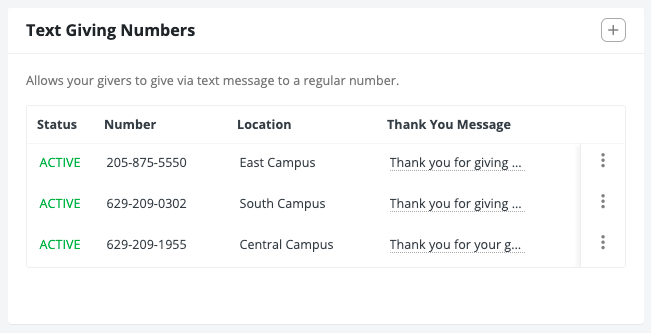 Confirm your area code then click Search to see all available text-giving numbers in your area.
Pro-Tips:
(1) For the most results, search by area code only.

(2) For a simpler number, try searching for multi-digit repeating numerical patterns. Ex: 000, 111, 2727, etc. (below).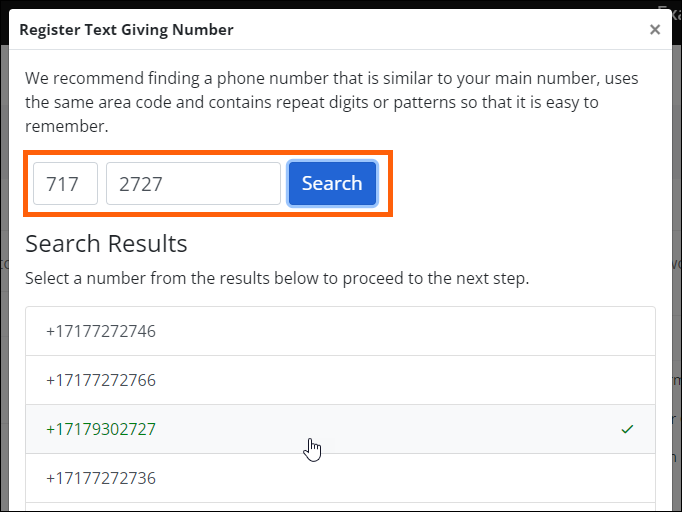 When you find a number you like, simply click on it.
If you have multiple Locations or Campuses, choose which Location will be associated with each text-giving number. Note: The Locations feature must be activated to see this option. Wondering if Locations is right for your ministry? Read More Here.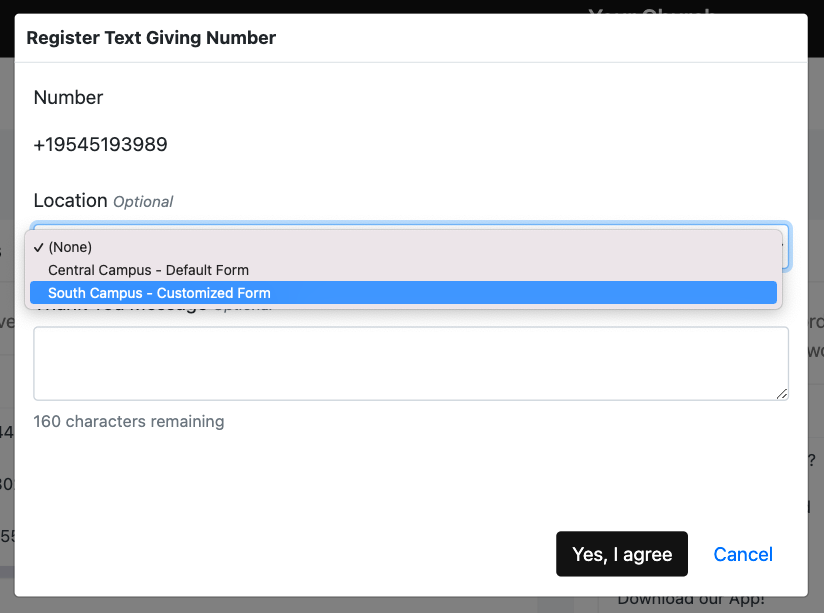 Last, create your customized confirmation message. This is the SMS message text givers will receive in response to a successful text gift.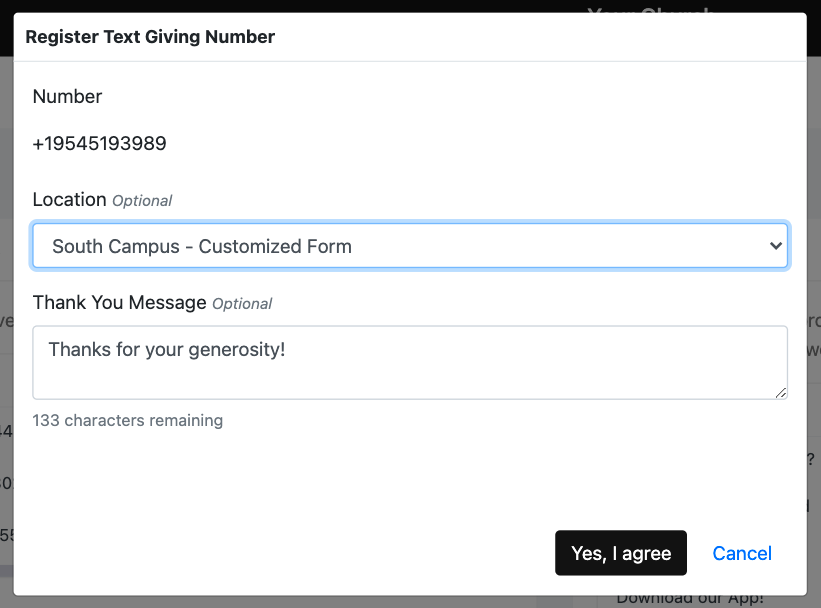 That's it! You've activated your text-giving number! 🎉
Givers can text gifts to your organization immediately. Now, all you need to do is spread the word!


Short Code Giving
We do offer Short Codes at an additional charge. If you are interested in using a Short Code, please contact our Support Team. Not sure which is right for you? Here's a helpful article explaining the differences :)
---
Keyword Texting - Create Immediate Ministry Opportunities
Text a keyword to your text-giving number and receive a link to any form you've created.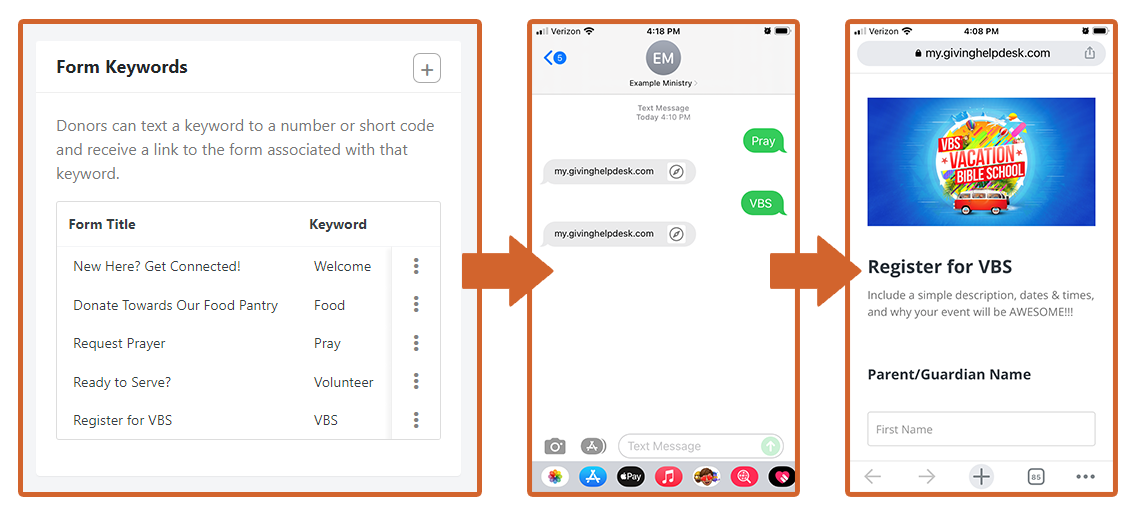 Pro-Tip: Use this feature to give your audience an opportunity to immediately respond when they're most engaged - during announcement time in weekly services!
To add a Form Keyword, click the ➕ in the Form Keywords section.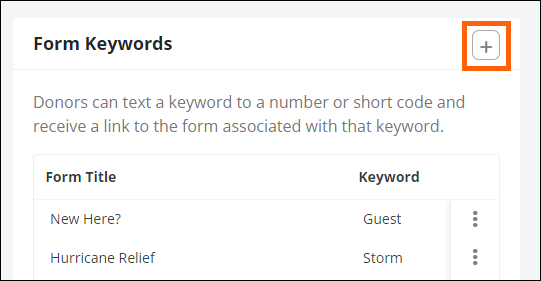 You'll then match an existing form to your desired keyword, and click Save.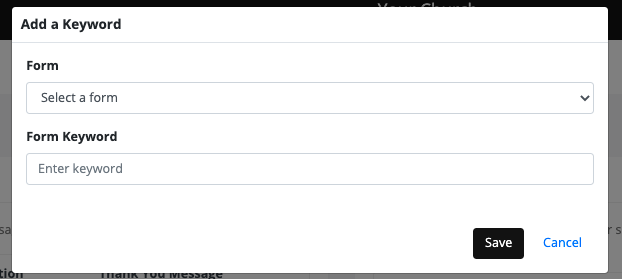 Edit or Delete keywords by clicking the 3-dot icon on the far right-hand side.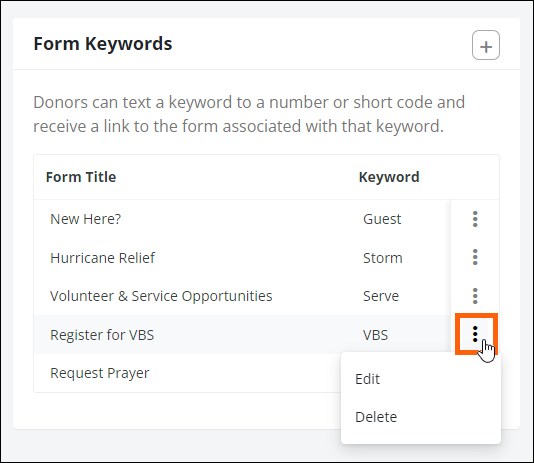 Learn More about Form Keywords
Updated