The central hub of your giving platform
Once your ministry's account is live, everything your staff needs for managing and updating your account can be found in your manager dashboard. This resource shows a bird's-eye-view of the powerful admin tools.
Here's a summary of what you'll find in each section of your manager portal.
On the left-hand side of your manager dashboard, you'll see the following categories: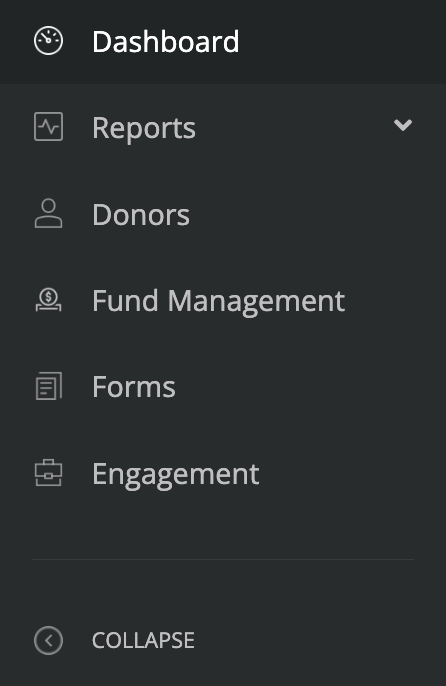 Dashboard: High-level insights into your ministry's giving, broken down into meaningful time increments (giving from the last 30 days, last 12 months, and all time).
Reports: Your giving data is tracked and sorted into reports most commonly used by our clients.
Donors: View donor transactions, edit donor profiles, add/edit donor envelope numbers, generate & email contribution statements, and add payment profiles for givers.
Fund Management: Add/Edit funds, fund goals, memo fields, and more.
Forms: Create customized forms to collect payments, event registrations, and special giving campaigns.
Engagement: Download customized slides or postcards to help promote digital giving to your givers or congregation.
Now, let's move to the top banner of your manager dashboard!

Click on the ? icon to link to the Help Desk and access a comprehensive collection of detailed product guides and communication resources!
We know nothing replaces actual human interaction, so you can always click on the Chat icon in the bottom of your screen to connect with our Support team or call the Support number listed on the bottom right of your login screen!
Click on the ⚙️ Gear Icon to access the following functions:
You'll also see your initials in your top banner! Click on them to see: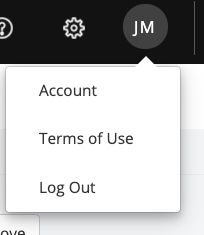 Account: Update your contact information (Name, title, contact info) or change your password.

Terms of Use: Read the terms of using our service.

Logout: See you later! 👋
Lastly, check out the 9-Dot Menu on the far right to quickly access other Ministry Brands products you're already taking advantage of, or find out more about solutions that may be super beneficial to your organization!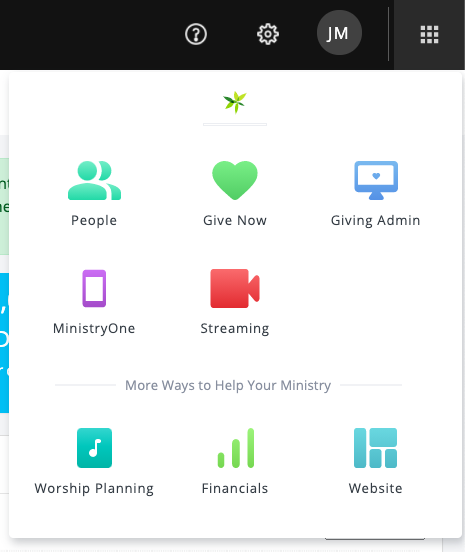 Updated