Learn how to filter through all transactions, issue refunds, and print or resend receipts.
From your Transactions Report, you can:
Search, filter, and sort all transactions

Save Frequently used report settings

Print and resend receipts

Issue refunds

Edit payment profiles
Access Transactions Report
Navigate to your manager dashboard. Click on Reports and then select Transactions.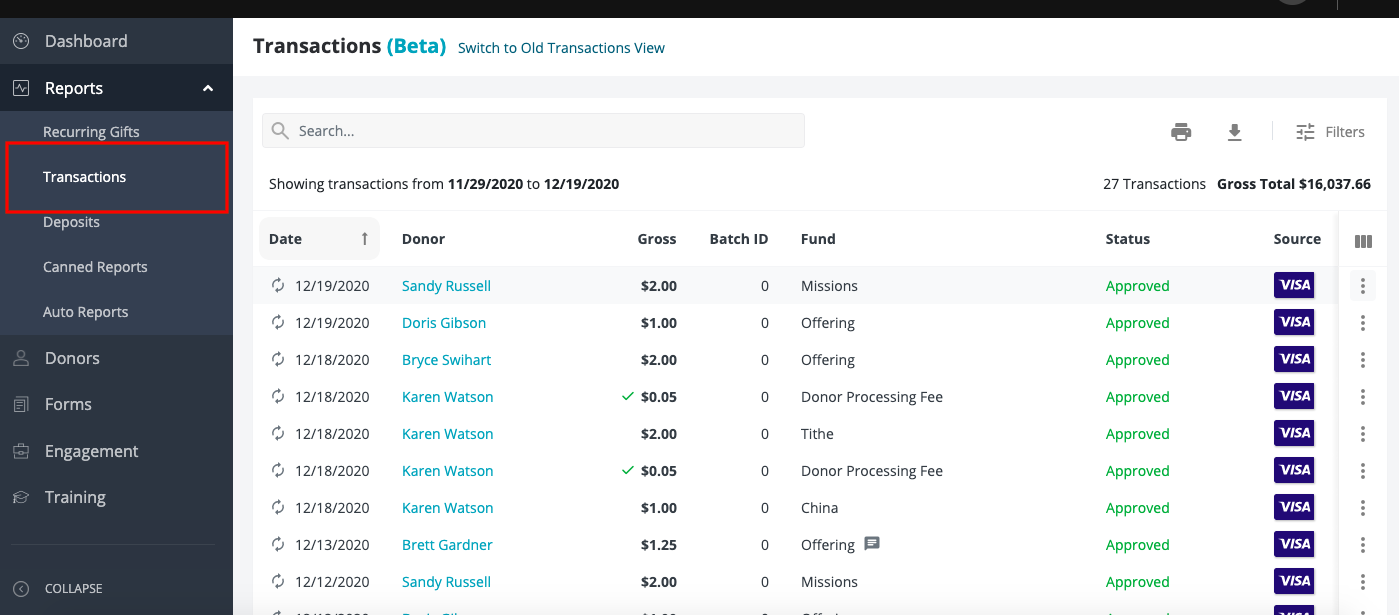 Filter and Sort Transactions
From your Transactions report, search for a specific gift using the search bar. Filter your view by selecting the Filters tool at the top right corner.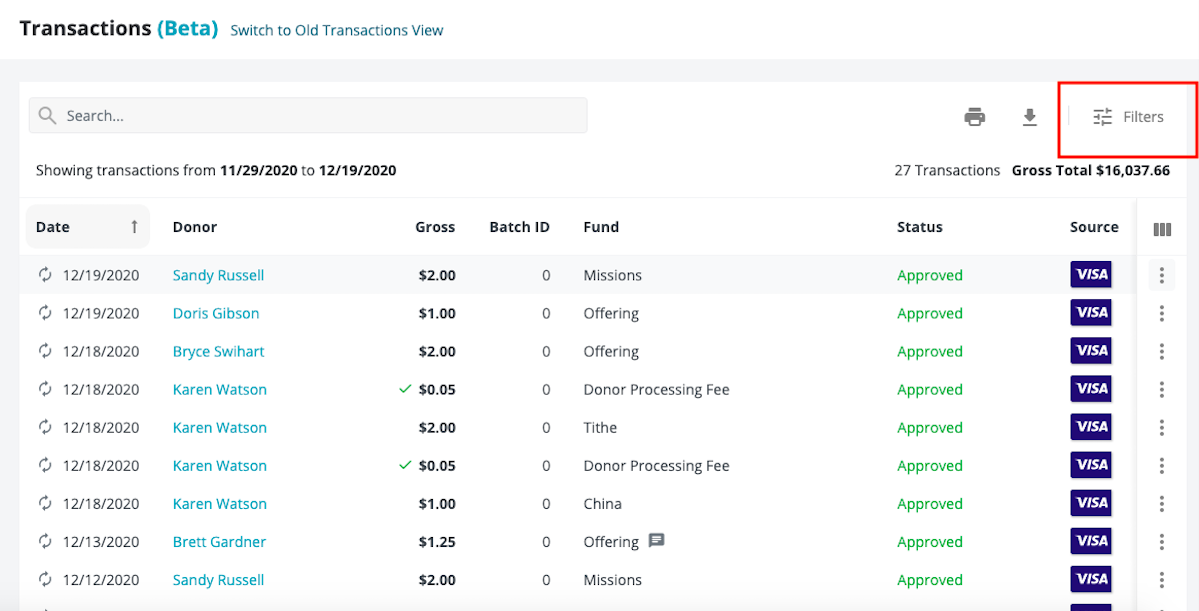 Once Filters is open, you'll be able to adjust several criteria to narrow down your search:
Filter By

Status

Fund

Occurrence

Location

Payment Type

Payment Method

Deposit Account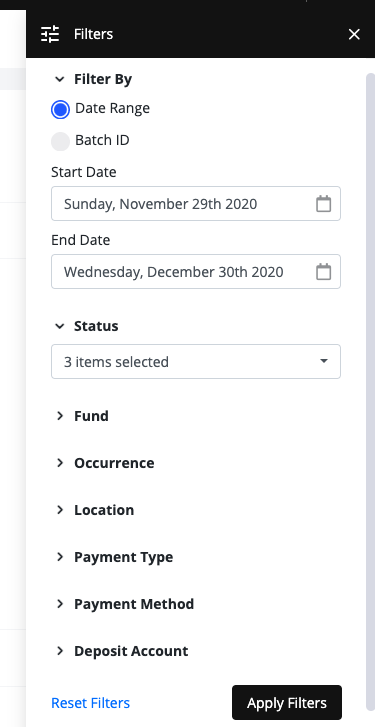 As you select filters, you'll notice your selections will be listed at the top of your report. You can click the x in each Filter chip if you decide you no longer need that specific selection.

Sorting Columns
You'll notice not all columns are initially visible on your report by design. You can add additional data points/columns by clicking the Column Sorter Icon to the far right of the column headers.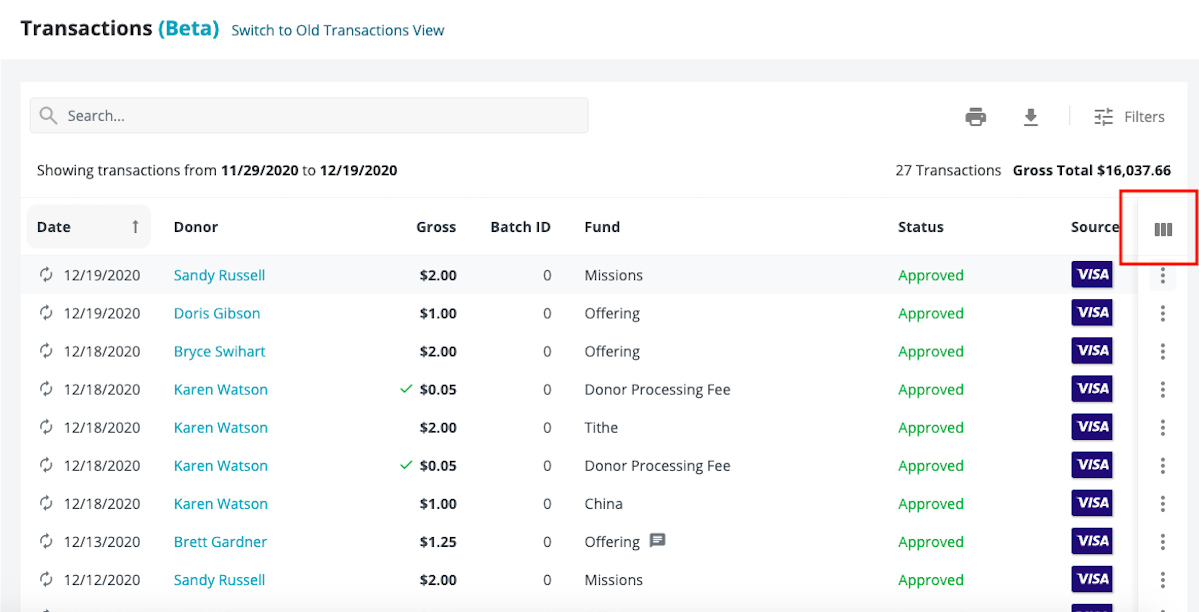 You can add many columns to your report.

You can also sort the report by clicking on the column headers. For example, you can click on "Funds" if you'd like to sort your report by funds in ascending order, or click "Funds" again to re-sort in descending order.
Once your report is set to the correct specifications, you can print or export that report using the buttons at the top of this page. Additionally, you can save your most frequently used report settings so you can quickly access that information every time.

Receipts, Refunds, & Other Actions
Within a transaction's row, click the 3-dot ellipsis icon on the far right. There you will find a few actions you can take for that transaction.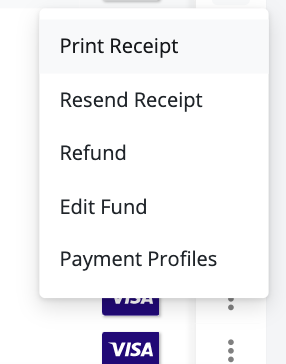 Print or Resend Receipts
Selecting Resend Receipt will send the giver another email copy of their original receipt. The Send field will be pre-populated with the giver's email address, but you have the option to enter a different email address if needed.
Refunds
Within a transaction's row, click the 3-dot ellipsis icon, then select Refund. The full transaction amount will be credited back to the giver's payment source, of you can opt for a partial refund.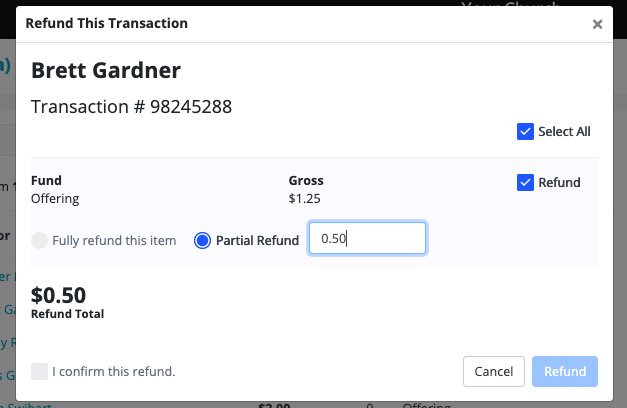 Edit Fund
If a giver contacts your ministry because they have given to the incorrect fund, you can adjust the fund on their behalf. Click on the 3-dot ellipsis icon, then select Edit Fund. Then simply select the correct fund from the dropdown menu.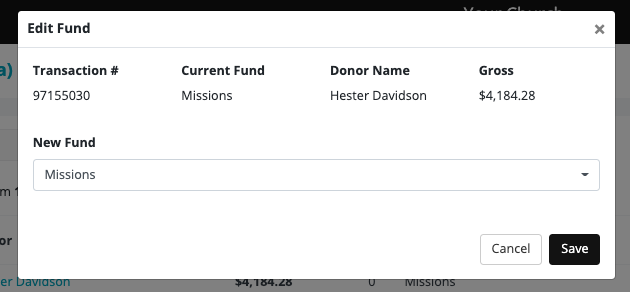 Edit Payment Profile
Within a transaction's row, click the 3-dot ellipsis icon, then select Payment Profiles. You can view a giver's stored payment methods and even create a new payment profile. Read more: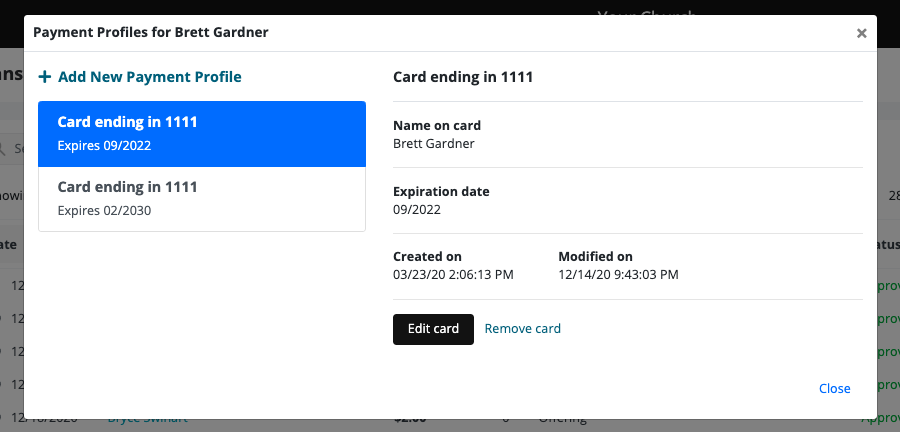 Updated