You don't have to change a thing. We already work with what you use.
What is a church management software (ChMS)?
ChMS stands for Church Management Software. Church management systems enables a church to communicate with, and engage its congregation. In addition to serving as a database for member/attendee records, a ChMS assists with child check-ins, church emails, calendar management, management of giving records, attendance tracking, small group scheduling, as well as a host of other powerful functions.
Our giving platform integrates directly with popular ChMS systems to make it easy to track your gifts. We also work with organizations using a variety of other management software. Even without direct API integration (meaning giver information will automatically send), we offer a variety of tools to make manual importing of your data simple.
Arena

Breeze

Church Community Builder

e360 ChMS

Elexio Community

FellowshipOne

FellowshipOne Go

Ministry Platform

Planning Center Online

Rock RMS

ShelbyNext ChMS

SimpleChurchCRM

The City
ACS

PowerChurch

Realm

Servant Keeper

Shelby

Software4Nonprofits

Or build your own custom export
To learn more about our ChMS solutions designed specifically to integrate with your giving platform, click the People icon in your 9dot menu.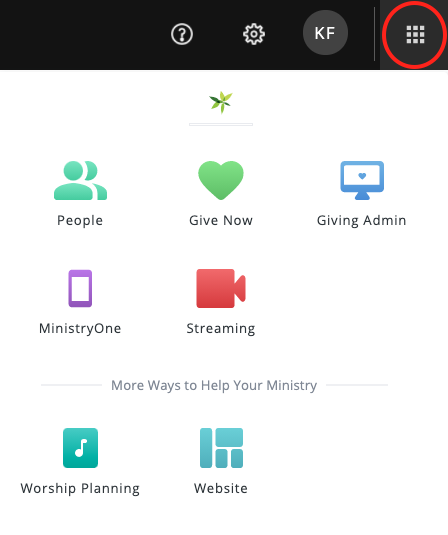 What if we don't have a ChMS?
No problem! You can find all giving data within your manager portal and even generate custom data reports. Read more: Custom Data Export
Updated