Map your funds & customize your settings for a seamless integration.
Once you have enabled your API ChMS integration, your screen will appear with new options. The screenshot below is a sample using SimpleChurch CRM, however, all solutions use the same mapping system, so your screen should look similar.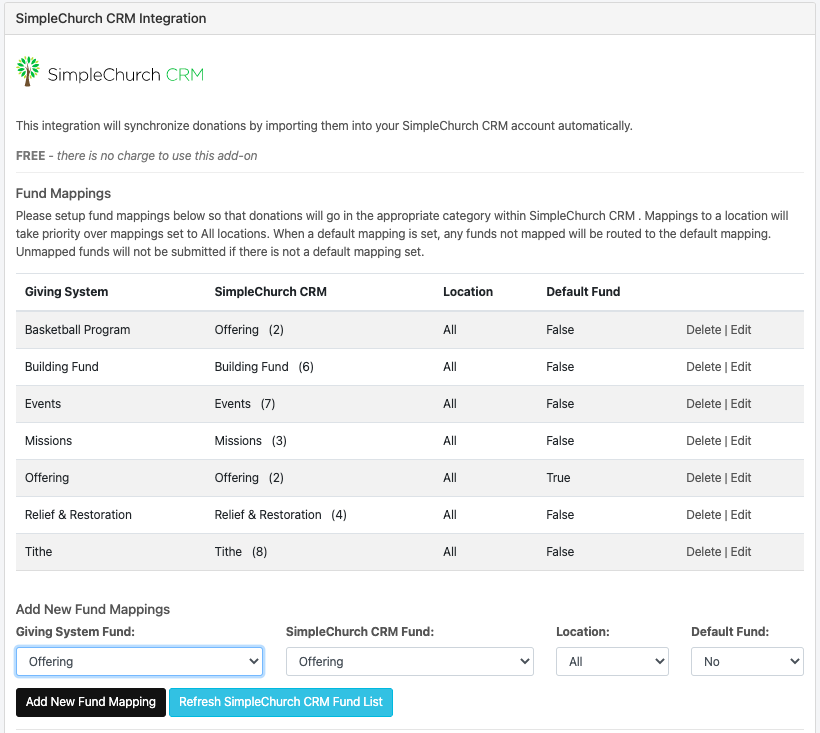 Mapping Funds
You must have funds created in your giving platform as well as your ChMS in order to map. If you have not yet done that, complete that step before proceeding.
Mapping funds is simple... maybe even a little fund! 😉
Simply select the giving fund you'd like to map from the Giving System dropdown, then select the corresponding ChMS fund in your ChMS System dropdown. (If you recently added a new fund to your ChMS system, but it does not appear on the dropdown, click Refresh "your ChMS" Fund List.)

Next, specify the Location if applicable.

Lastly, determine whether that fund is your Default.

Once your selections have been made, click Add New Fund Mapping.

Note: When a default mapping is set, any funds not mapped will be routed to the default mapping. Unmapped funds will not be submitted if there is not a default mapping set.

New Donor Mapping
When gifts are pushed to your ChMS, they will match to existing donors in that system. Enabling New Donor Creation will create a new donor profile in your ChMS if the system does not initially find a matching profile. If New Donor Creation is not enabled, gifts without a matching donor profile will appear in your Sync Report. There you will have some options to map that transaction manually.

Offline Gifts
Although your giving platform is a vehicle for digital giving only, this option would allow your givers to view cash & check gifts made offline. These additional gifts would appear in their giving history, reflecting their full giving history recording according your ChMS records. Note: This option is only available for Ministry Brands ChMS systems.

Disabling your Integration
If you need to disable your integration at anytime, you can do so from this page. Additionally, you can clear all your settings and begin again if necessary.

Updated