How does this work?

When donors access your donation form (either embedded on your website or included in the Ministry Brands -hosted donation page), they can choose to make a donation via "Crypto or Stock". When they click the "Crypto or Stock" donation button, The Giving Block's crypto and stock donation form will open in a new window.

For stock gifts, donors initiate the donation by inputting the required information on the giving form. This information is converted into a stock donation form which is sent directly to their broker to execute the transaction. Donors will receive an email confirming that we have received their pledge and are initiating the transaction with their broker.

Stock donations are distributed to the Wells Fargo account at the Renaissance Charitable Donor Advised Fund. Typically stock donation orders are processed within 5 to 10 business days. Donors receive a final receipt once the shares have been liquidated.

Crypto gifts are similar, but at the end of the information entry process they will be provided with a unique string code or QR code which they will use with their preferred Crypto wallet.

Cryptocurrency donations are transferred to Renaissance Charitable's wallet. Once confirmed on Blockchain, these crypto donations are immediately liquidated for cash and nonprofits receive the gifted amount net of processing fees.
Donors receive email receipts from Renaissance Charitable Foundation, Inc. when their gift is fully processed.
How will I receive their crypto or stock donations made with this integration?
Donations will be issued via check by Renaissance Charitable, a sponsoring charity for donor advised fund programs.
How often will I receive payments from Renaissance Charitable (REN)?

Customers will receive their crypto & stock donations monthly by check via Renaissance Charitable. You will receive one check for crypto donations and one check for any stock donations. Note - there must be a minimum of $50 in donations to distribute each month. If you receive under $50 in donations in a month, those funds will be later distributed once the minimum donation amount is reached. Checks are typically issued by the 15th of the month.
When I receive payment from REN, will the check show which transactions included?
On the check, there will be a purpose line statement that includes the date range of donations included. For example "10/01/23 - 10/31/23 Crypto donations via Ministry Brands" or "10/01/23 - 10/31/23 Stock donations via Ministry Brands". Along with the check, you will also receive a grant letter from Renaissance Charitable, with the same purpose line included.
Will donors receive a receipt for crypto and stock donations?
When a donor makes a crypto donation, they will receive an automatic receipt from The Giving Block. When a donor makes a stock donation, a receipt will be sent once the shares have been received and liquidated at Renaissance Charitable. Since Renaissance Charitable is the sponsoring charity for both crypto and stock donations made through Ministry Brands, their information will be listed on the receipt your donor receives.
What is the crypto and stock processing fee?
The processing fee for crypto and stock is 4%.
How will I know if I received a crypto or stock donation?[ba1]
a) The main email you provided when enabling these donation methods will be set-up to receive email notifications from The Giving Block when your organization receives a crypto or stock donation. You can also view these transactions in The Giving Block's dashboard.
For crypto, you will receive one email notification when your organization receives a crypto donation.
For stock, you will receive two email notifications. The first email is to notify your organization that a stock pledge has been made. This means the pledge is still pending and is still subject to validation (which typically takes 5-10 business days to complete). The second email you receive is when the stock has been received and liquidated by Renaissance Charitable.
For all these emails, this is to notify your organization that you've received a crypto or stock gift. This does not indicate that your check has been mailed by Renaissance Charitable. You will receive your payouts for crypto and stock monthly from Renaissance Charitable via check.
b) If you would like another person at your organization to receive email notifications, please email support@givinghelpdesk.com.
How do I view my stock or crypto donations?

When you enable crypto and stock donations, you will receive an email to access The Giving Block's dashboard, where you can access all donor and donation information for crypto and stock. You're also able to export weekly, monthly, and all-time donation reports in an excel format.
To access the dashboard, log into http://dashboard.tgbwidget.com/.
For more instructions on how to navigate the dashboard, click here.
Should I import my stock or crypto contributions into my church management software?
At this time, we recommend that you do NOT add your stock or crypto donations into your church management software. When The Giving Block is fully integrated into Ministry Brands systems in 2024, all previous stock or crypto donations will be imported at that time.

Are stock or crypto contributions refundable?
Stock and crypto donations are not typically refunded. We strongly suggest that customers explicitly treat all cryptocurrency / stock donations as final and do not offer refunds. Should a refund absolutely be necessary, it would have to be issued as cash from your organization directly to the donor.
When I receive my check from Renaissance Charitable, what other documentation will I get?
Below is a sample letter you will receive with your check for any crypto / stock donations: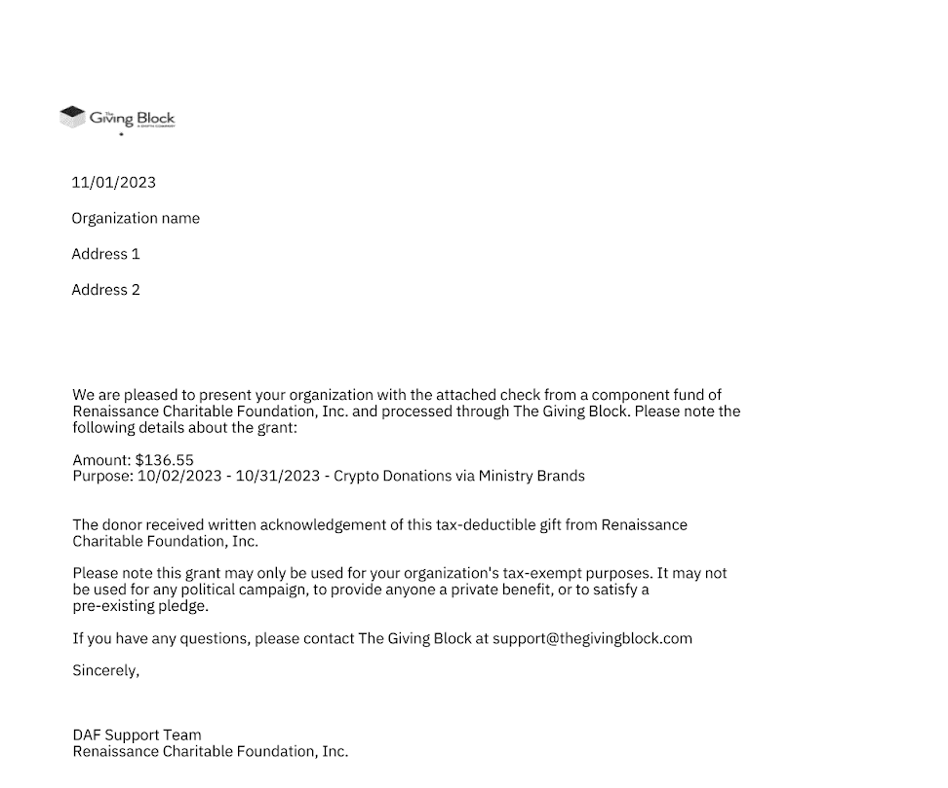 Below is a sample check you will receive with any crypto / stock donations:

Updated