The giving landscape is shifting.
We're here to help you meet donors where they are and maximize generosity to grow your ministry.

Four reasons you should facilitate Stock & Crypto donations?
1. Reaching a New Generation of Donors
The advent of digital assets is not a fleeting trend but a paradigm shift, predominantly driven by the younger generation. By accepting stocks and cryptocurrency, you're not only broadening your donor base but also resonating with the tech-savvy, forward-thinking individuals who are likely to be the philanthropists of tomorrow.
2. A Staggering Forecast
The potential is enormous. The 2023 Annual Report on Crypto Philanthropy projects that crypto donations could reach up to $10 billion over the next decade. This is a substantial fund pool that your church or parish could leverage for its missions and community service initiatives.
3. New Donor Acquisition
Most crypto donations are from new donors, not current ones. This fresh influx of donors not only augments your church's financial resources but also builds a community of diversified, supportive stakeholders. It's not just about the funds, but the relationships that will sustain your parish or church's mission over time.
4. High Average Donation
The Giving Block, facilitating crypto donations, observed an average donation value of around $6,000. These figures suggest a remarkable level of generosity among crypto donors, which could significantly bolster your church or parish's fundraising campaigns.

How does it work?
In short, we now offer the option to collect Stock and Cryptocurrency donations through our partnership with The Giving Block. We'll help you get onboarded, and then get a button added to your Primary Giving Form.
Donors can click that button to complete their gift, and your ministry will receive the liquidated total amount of your stock and crypto donations via check at the end of each month.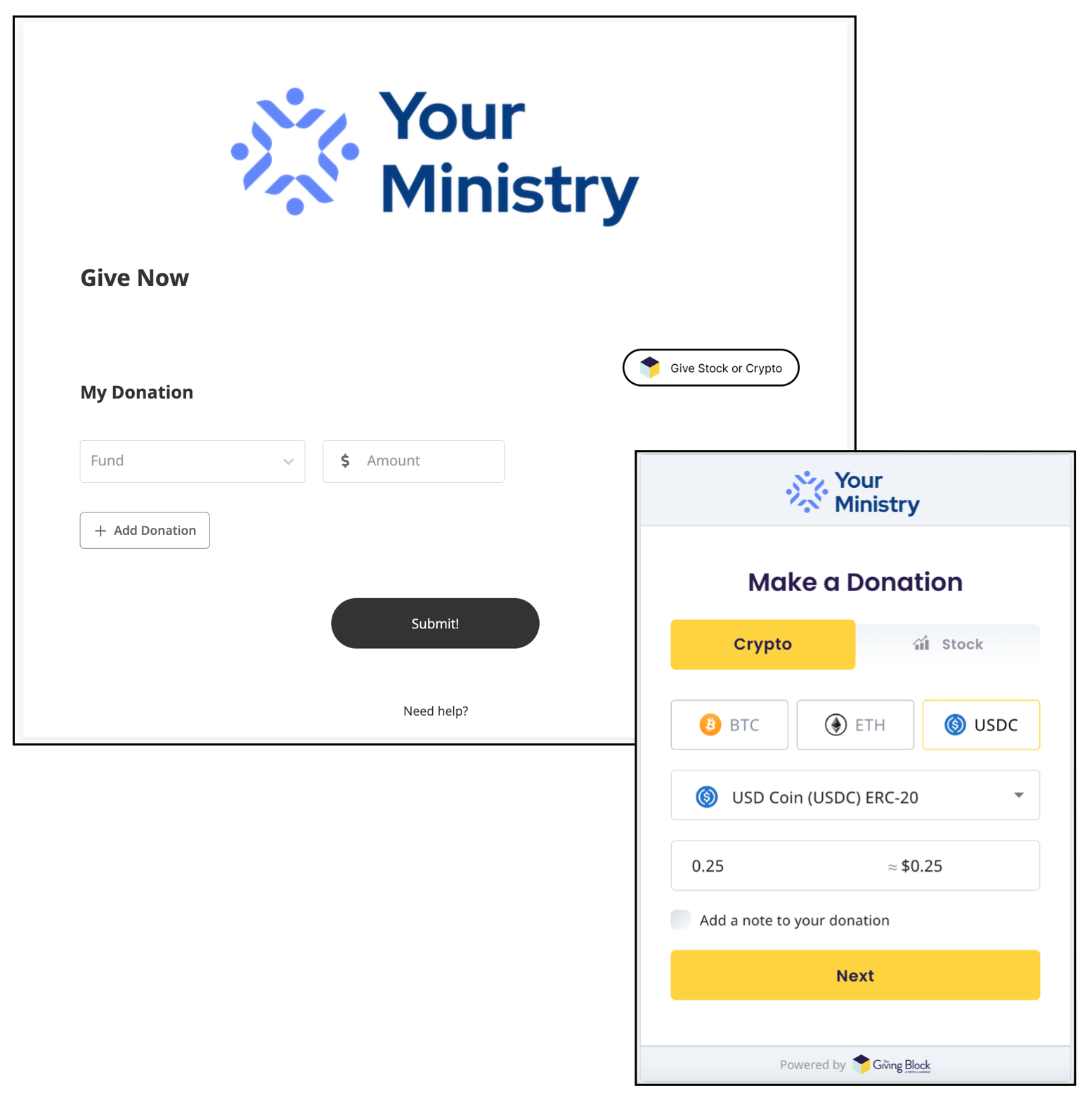 Ready to take the leap?
Click one of the buttons below to complete a quick interest form. Our team will reach out by the next business day to get you onboarded.


Updated