If someone needs a refund for an accidental payment or gift, your managers can issue a refund through your manager dashboard.
There's a 15-minute window when a giver can issue a refund himself on a text gift. Read more in How do I refund my text gift?
How to Issue a Refund
Navigate to the Reports, then Transactions. Within a transaction's row, click the 3-dot ellipsis icon to the far right, then select Refund. The full transaction amount will be credited back to the giver's payment source, of you can opt for a partial refund.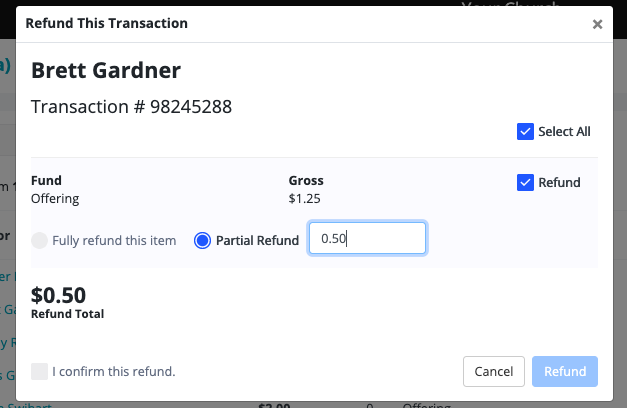 Refund Timeframes
Credit/Debit Card Refund Timeframes
Managers can issue a card refund anytime.

The partial or full gift amount will be credited to the giver's account within the following 1-2 business days.
ACH Refund Timeframes
ACH refunds take longer to process because the initial transaction takes longer to complete and verify. Learn more about ACH timeframes and declines.
Managers can issue an ACH refund after the initial ACH gift has completed (10 business days).

The partial or full gift amount will be credited to the giver's account 3-5 days after the refund was requested.
How Refunds Affect Reports
When a refund is issued, we do not take the funds from your bank account. Instead, we create a negative balance for the net amount of the gift, which will be deducted from your next deposit.
For example, a refund for a $50.00 credit/debit card gift would create a negative balance of $48.40 on your account. Future gifts count against this total until until it is achieved, so your next deposit will be, in this case, $48.40 less than the net amount you received.
Refunded gifts will be reflected on the Batch Deposit Report as a negative amount (bracketed by parenthesis).
Note: The gift amount is returned to the giver. Your organization will still be charged for the processing fee.
We hope this helps you better understand refunds. Please feel free to reach out if you do have any questions! 😄
Updated