Although givers can access their giving history any time, your team may still get requests for a previous gift receipt to be re-sent or printed.
Here's how!
Navigate to Reports on the left navigation menu, then Transactions. Within a transaction's row, click the 3-dot ellipsis icon on the far right. There you will find a few actions you can take for that transaction.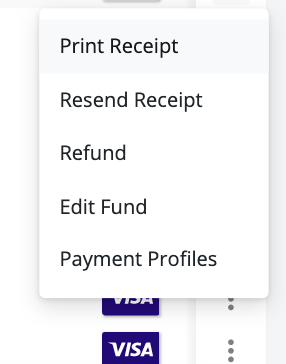 Print or Resend Receipts
Selecting Resend Receipt will send the giver another email copy of their original receipt. *When you click on Resend Receipt we'll pre-populate the Send field with the giver's email address. You can certainly enter a different email address if needed!
Updated