Need tickets for people or groups for an event? Ticketing is fast, easy, and an included feature in Forms.

When you create a new Event Registration form, navigate to the General Info tab in Form Properties. Scroll down to the Categories and select Event Registration, if not already checked. To the right, notice the Enable Ticketing selection box.
From here, create your Event Registration form using the Field Properties necessary for your event, such as attendees, contact information, event cost, and so on.

How do registrants receive a ticket? Glad you asked!
When creating your form, be sure to use the Person Field Set, This is the field necessary to generate a ticket. The individual submitting the form will receive a confirmation email including a group ticket, as well as each individual ticket for each name added to the Person Field Set.
A few important things to note:
Your event can be free of charge and still enable ticketing! A payment field is not required for ticketing! If a payment field is not present, the confirmation email and ticket(s) will be sent to the first email field on the form.

Tickets will be shown to the registrant after the form is submitted. To preview, navigate to the Form Properties and view the Email tab.
Click the Preview icon to view the ticket(s) as they will appear in the form submission email.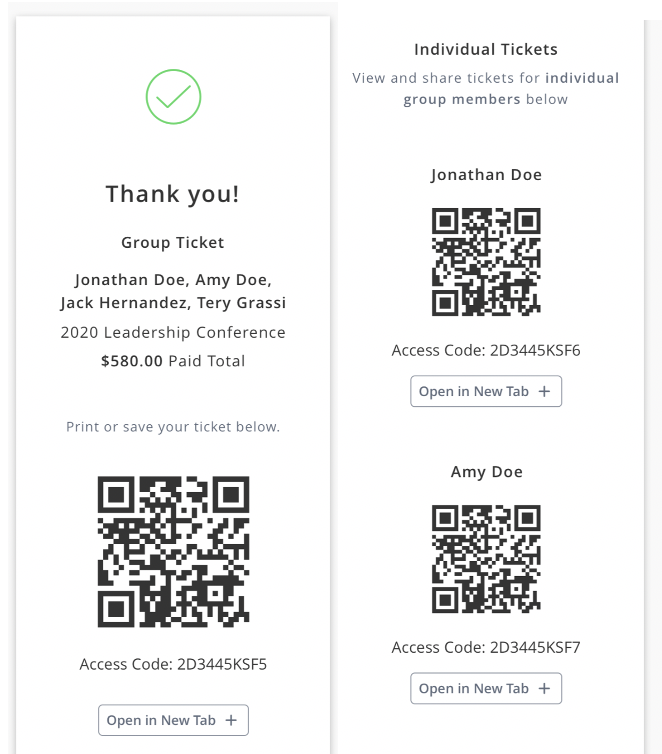 The primary attendee who registers for a group, will receive a group ticket and each individual ticket. He or she may forward the individual tickets to each person, or if the group plans to arrive together, may check-in using the group ticket.
Registrants can choose to print a ticket, or save on their phone, just like a picture.
How to redeem tickets at an event
For manager instructions for viewing tickets and redeeming them at event check-in, click the Tickets for Events button below.
Updated