Switching from another giving platform is easier than ever.
Hesitant to make the move from another digital giving platform? Transition can be tricky, and we have tools to help your church or organization switch as easily as possible.

The Donor Importer allows you to import donor records (names and contact information), giving history, and currently scheduled recurring gifts.
After importing your records, you can even notify your givers by sending a customized email to help communicate the switch and a quick and easy link for givers to connect immediately to their new profiles.

See below for three simple steps!
Step 1: Upload Files
You have control over how much you'd like to import. At a minimum, Donor Profiles must be selected. Additionally, you may choose to also import the giving history of your donors, and/or their currently scheduled recurring gifts.
Note: Uploaded files must meet format criteria. If your file is incorrect or has missing data, you will receive an error message with helpful instructions about what may need to be corrected.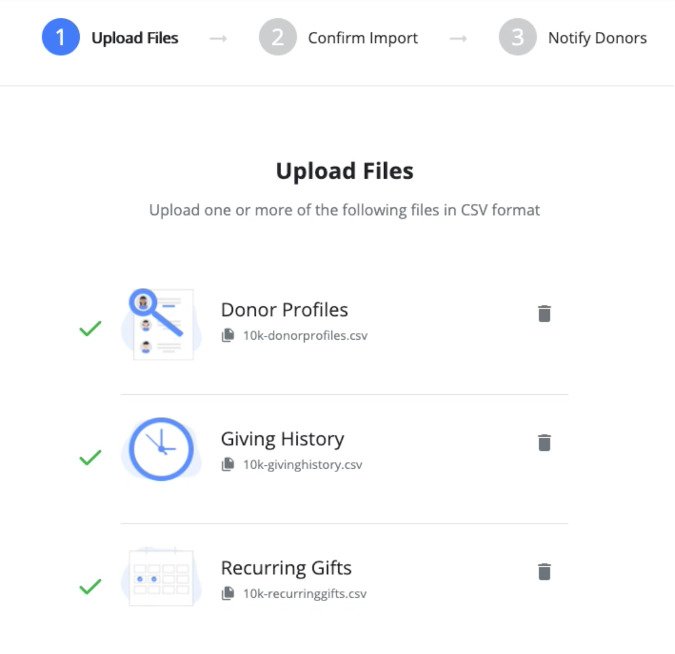 Transitioning from PushPay?
We have a specific File format just for you! Be sure to notify your Import Specialist during your meeting. Keep reading to schedule that meeting.
Step 2: Confirm Import
After completing Step 1, confirm your import in Step 2 and checkmark the acknowledgement statements.

Note: Import may only be completed once and cannot be undone. Please ensure your file is complete and accurate before confirming. This will not impact your donors! Confirming import will simply add the records you've selected into your digital giving account.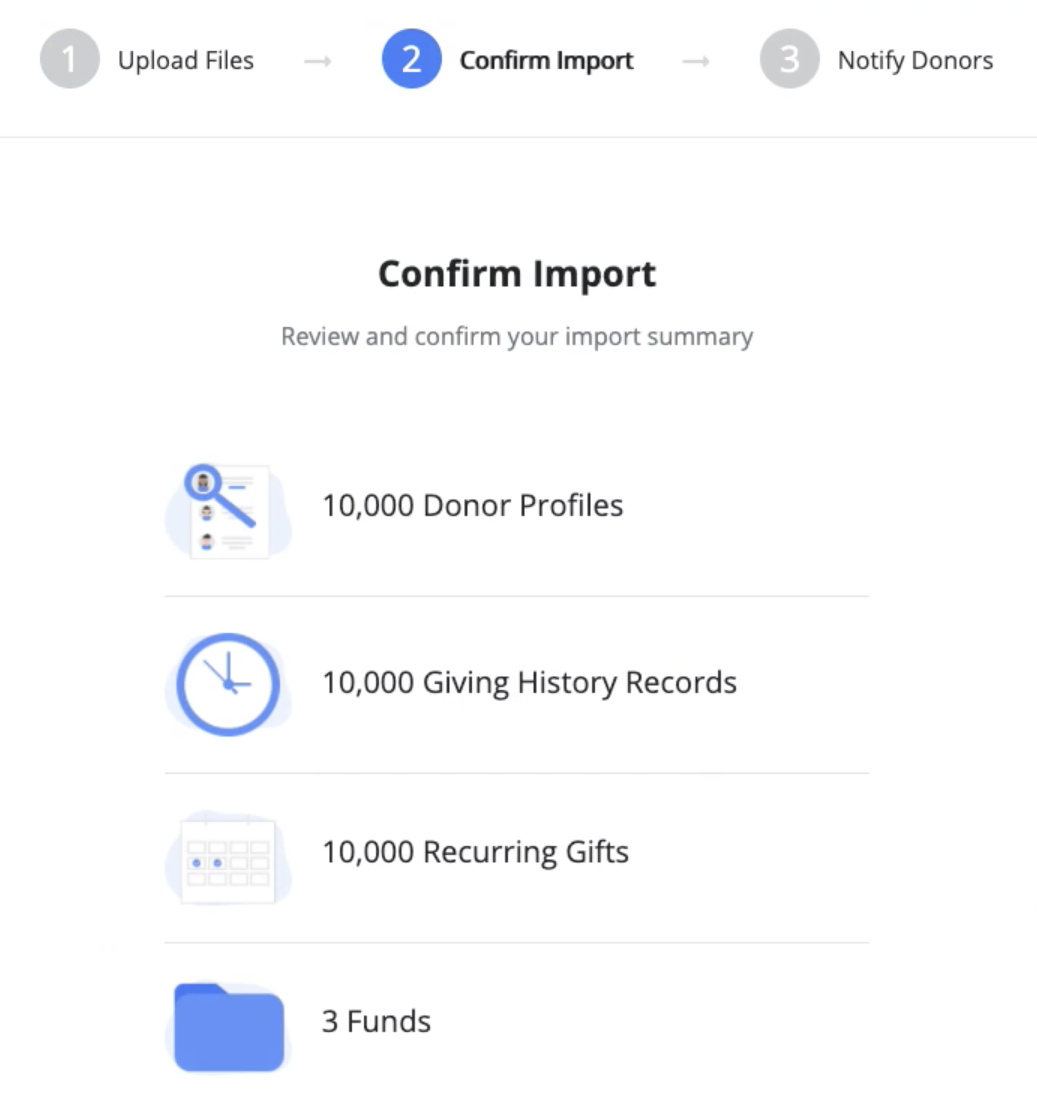 Step 3: Notify Donors (optional)
Congratulations! You've imported donor records, their historical giving, and scheduled gifts. Now it's time to spread the word.
You may not be ready to do so just yet, and that's ok! When the time is right, notifying your donors is just as easy as importing their records.
Choose your personalized message and click Send Email. Your custom message will be sent to each donor imported to the email address on their profile.
Click the preview icon to see the email before it goes.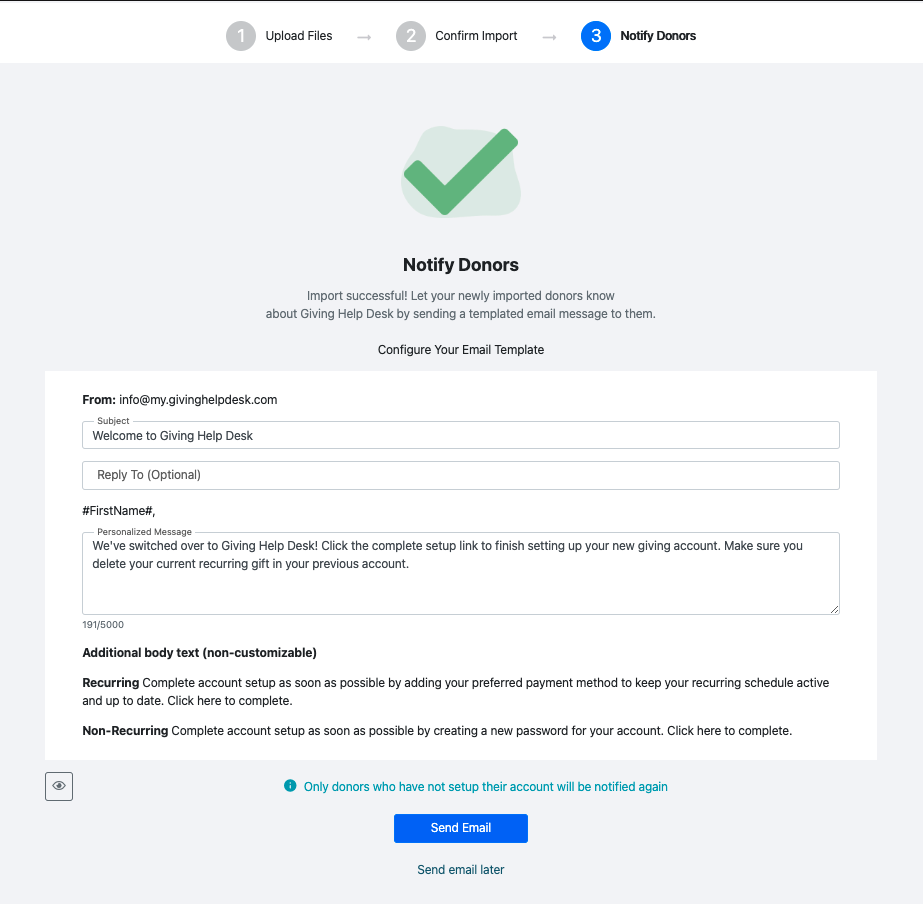 ---
What action will donors need to take? 👩‍💻
If you choose to take advantage of the automated notification email above, donors can access their new giving account with just one click!
Donor emails will appear similar to these examples, with your personalized message.

Donors without recurring gifts: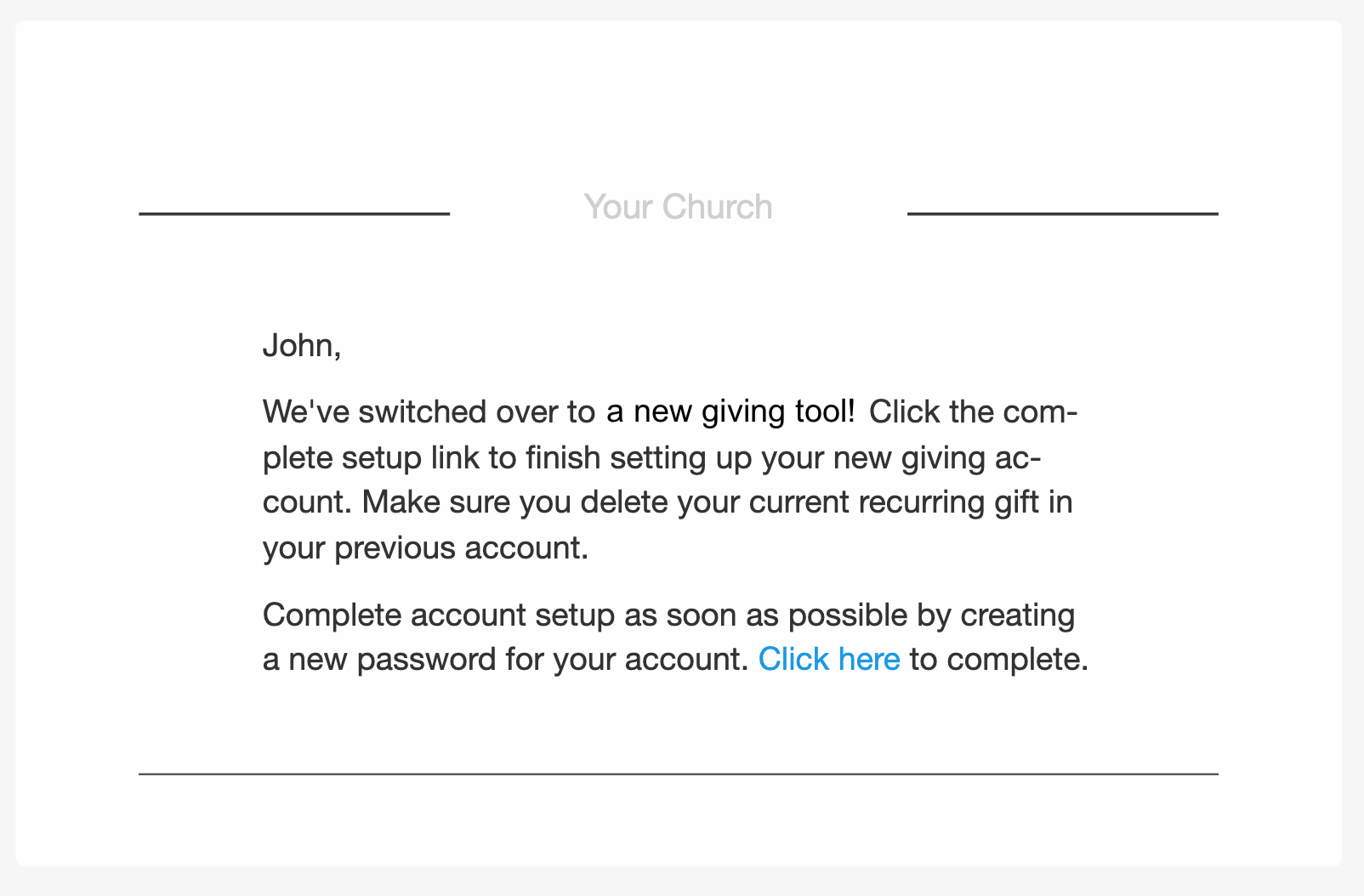 Donors with recurring gifts: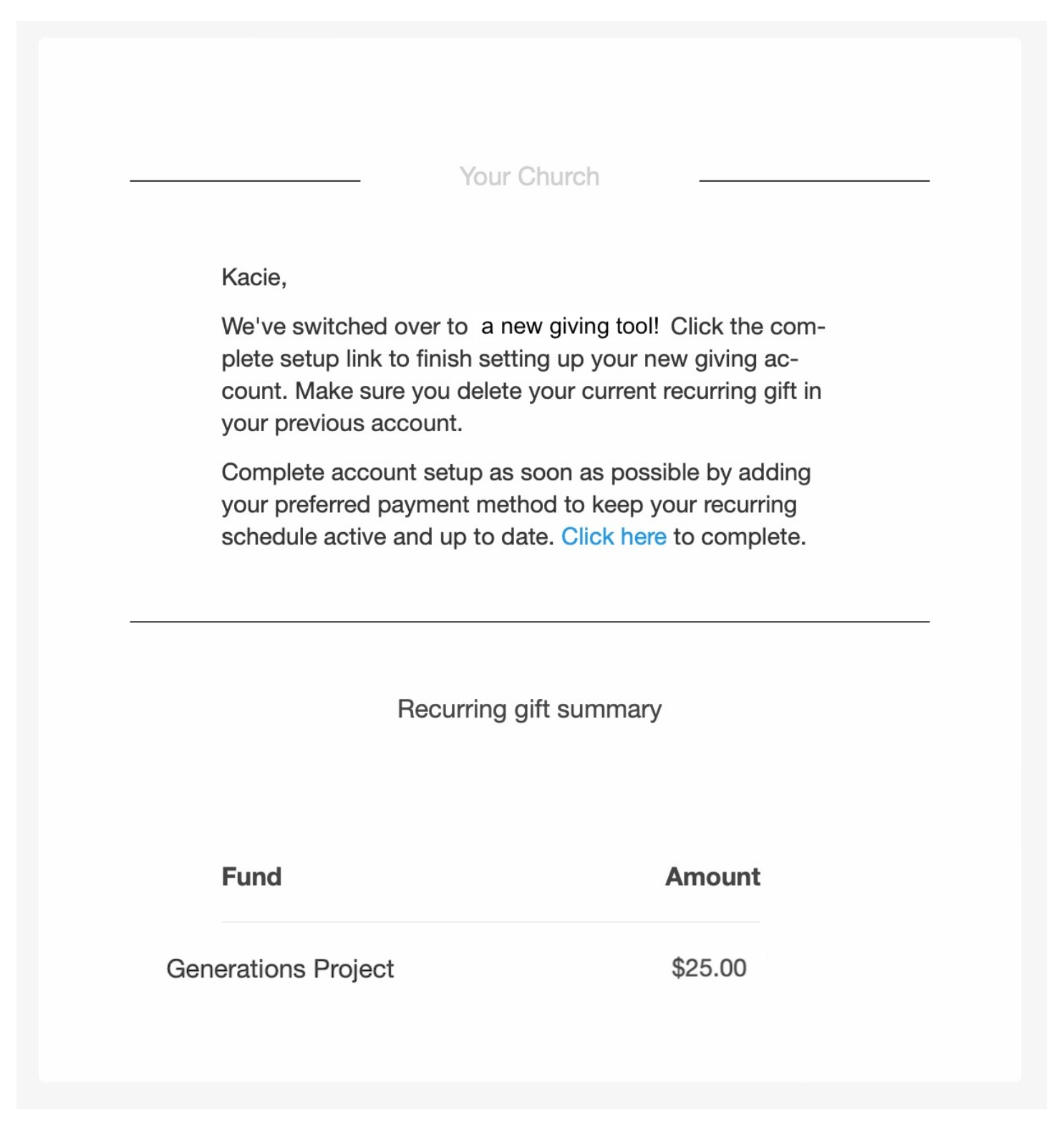 When selecting click here in the body of the email, donors will be taken to their new giver profile account and directed to select a password.
If a recurring gift is active, donors will also have the opportunity to confirm their preferred payment method.
That's it!
Will the steps above stop a recurring gift in our other system?
🚨 No! Importing giving records or recurring scheduled gifts will not eliminate, replace, or remove records or scheduled transactions from your other platform. It will be important to consider clear communication with your donors including instructions about how to cancel previous recurring gifts in your other system(s). 🚨
Why do givers need to verify payment methods? 💳
While most information may be imported, such as names, contact information, historical giving, and recurring gift schedules, other information is protected for the safety and security of your givers. Saved debit/credit card numbers and bank account numbers cannot be transferred from one platform to another. Upon first log-in, givers will have the opportunity to add their preferred giving method.
What are the file requirements for upload? 📁
Each file type must be .CSV and include the appropriate column headers. Additionally, there must not be missing data (i.e. blank cells). If a file includes errors, you will receive a validation error message with helpful instructions about what needs to be fixed before moving on. See file requirements and FAQs here.
I'm ready! How do I get started? 📅
Schedule a call with our Import Specialists here. We're looking forward to connecting with you!
Updated