Year-end is wildly busy for churches. Welcoming guests, planning Christmas activities, organizing for tax season, increasing year-end gifts, and everything in between consumes your days.

That's why it makes sense to focus on growing recurring gifts (rather than only increasing year-end giving). It's like crossing two T's with one stroke of the pen.

Over 90% of average churchgoers attend a service during December. And 65% of people are more likely to participate in a church service around Christmas.

With so many people in attendance, you have the rare opportunity to create excitement around recurring giving for those that aren't typically engaged.
Follow the steps below to ignite recurring giving (even during the hustle and bustle of year-end).
---
Step 1: Identify where people are in the Giver's Journey
Every person is on their own path in the Giver's Journey. When churches understand where people are, they can tailor impactful touchpoints to encourage recurring gifts. During Christmastime, you'll find people in every stage of this journey.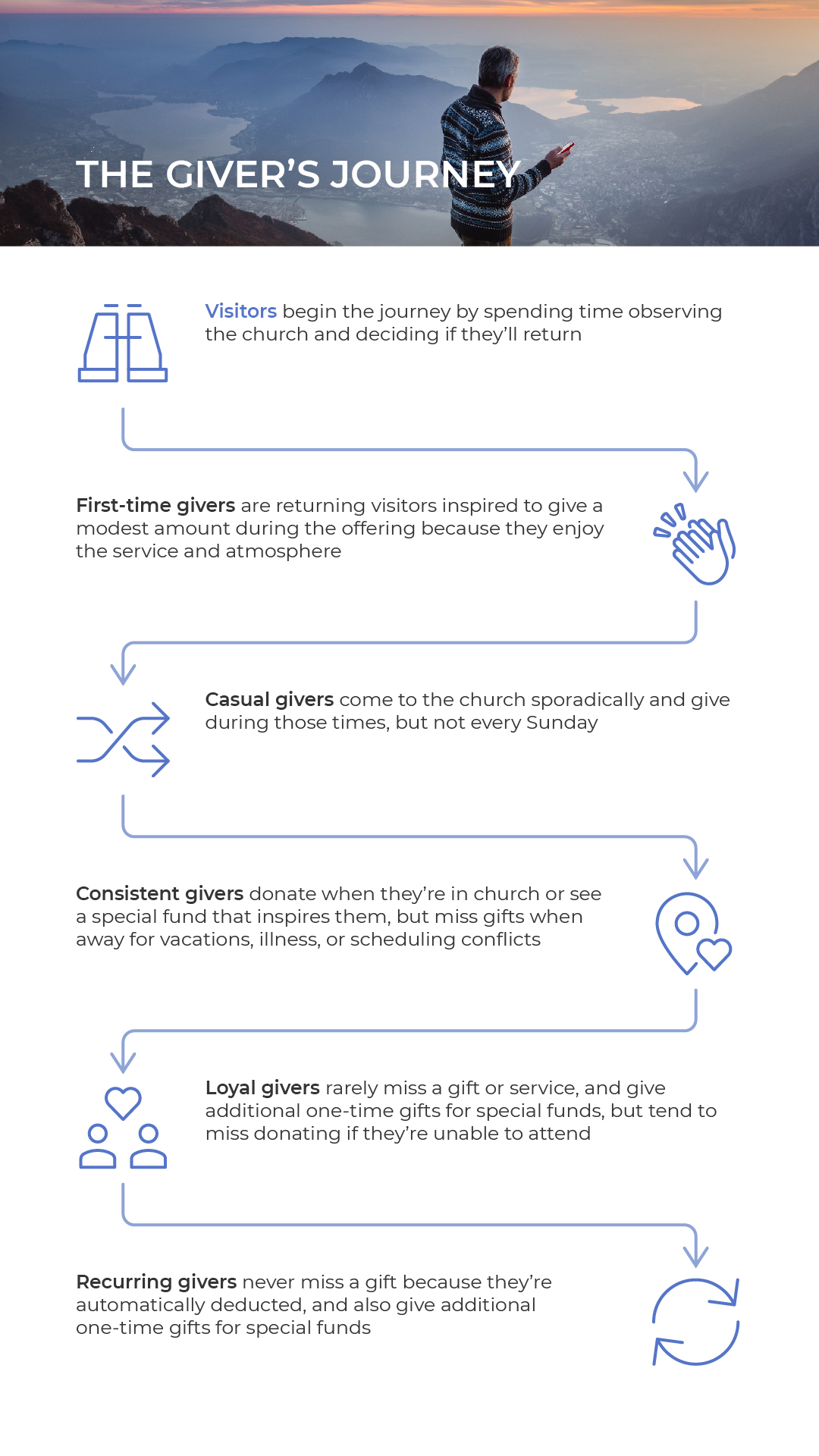 The best way to identify where they are is by utilizing your giving reports. Run donation reports by person using specific criteria like year-to-date, last month, last year, and month-to-date.

Go to your Donor tab to access 12-month stats, life stats, and contact information. From there, you can segment donors based on where they are in the Giver's Journey and begin to guide them through the stages.
Check out our free email samples that move givers through the journey during year-end. Use them exactly as written or tweak them to communicate your message better.
---

Step 2: Make giving incredibly easy
Equip your church with online giving tools that provide first-time and recurring givers all the available ways to give. When they can donate and set up recurring gifts on your church's website, using a smartphone, and via text, you empower them to give 24/7—not just when attending church. Remember, 67% of giving happens outside of Sunday!

Opting to set up online recurring gifts should be effortless and quick.

When checking the "Make this Gift Recurring" box, givers are prompted to complete a one-time set up that takes less than a minute. From there, they manage the frequency and amount. They aren't boxed-in with recurring giving either. They can give a single gift to other funds when inspired.

Make sure your giving platform accepts credit cards and ACH (eCheck) transactions. Also, go with a Level 1 PCI Compliant Provider to give people peace of mind throughout the giving process.
---

Step 3: Show your church where to start
During Christmastime, people give special donations to the church. These gifts are either larger than usual or an addition on top of regular giving. You may worry about asking people to sign up for recurring gifts when they're already contributing in a unique way versus the rest of the year.

This is no reason to skip talking about recurring giving!
The key is to go beyond a casual mention of scheduling recurring gifts. Show people exactly where to start. One of the best ways to do this is to create giving tiers.

The first tier can be as little as $1 a month showing that it's not the amount you give, but the consistency. From the $1 tier, move up to a $10, $50, and $100 tier. If you're not sure what amount to use, base your tiers on what current recurring givers donate by looking at reports.

Include the frequency in your tiers. Some people may want to give weekly, others monthly, and some will only want to set up a quarterly or yearly recurring gift.
Ask people to find the tier that fits their average Sunday gift and frequency. Over time, encourage givers to go up to the next tier.
---
Step 4: Share the impact of recurring gifts
While raising awareness that you offer recurring giving is essential to success, you also want to share the real-life impact of those gifts. Highlight the results of recurring donations during services, on social media, and in newsletters.

Show pictures and videos of your church in the community building homes or delivering food to the elderly. Share stories of volunteers and mission trip leaders. Focus especially on those initiatives that are uniquely funded by the consistency of recurring giving. By seeing the church in action, people get a better understanding of how recurring gifts make an impact.

Not only will this inspire people to sign up for recurring giving, but it will also encourage current recurring givers to donate more, or even increase their frequency.
---

Next Steps
It takes time to cultivate a strong recurring giving community, but by repeating the 4 steps above (and repeating them throughout the year), you'll see a noticeable difference in consistent giving.

Here's a quick recap:
Step 1: Identify where people are in the Giver's Journey
Step 2: Make it incredibly easy to sign up
Step 3: Show people where to start
Step 4: Share the impact of recurring gifts
Step 5: Repeat steps 1-4
Updated