Make recurring giving obvious on your website
Your recurring giving option can be as pronounced as you want and thoughtfully balanced alongside other events. Even a subtle mention of recurring giving on your website can make a noticeable impact.
Add the option "Set up recurring gifts" in the footer of your website

Place a recurring giving button on your home page

Create a dedicated page reviewing what recurring giving is, how to set it up, and the benefits

Include a brief description of recurring gifts on your primary giving page

Enable the "Make this Gift Recurring" box that people can check going through the motions of giving one-time
By seeing this option on your website, givers can explore if it's right for their budget and schedule.

Strategically send emails
Engaging donors is more effective when you tailor communication to reflect where they are in the Giver's Journey. Take advantage of 4 email templates created to specifically message first-time, casual, consistent, and recurring givers while helping guide them towards the next step in generosity.
Not only do these email templates help you thank givers and increase recurring gifts, but they also help you retain donors.
Share videos featuring recurring gifts
Did you know viewers retain 95% of a message when they watch it in a video compared to 10% when reading it? By sharing videos on social media and your website with the steps to set up recurring gifts, you'll capture the attention of more people.

Mention recurring giving during service and in welcome packets
During the offering, tell real-life stories about how recurring gifts impact lives in the community. Feature these stories in welcome packets with pictures of volunteers in action. When people see for themselves how giving helps the church make a difference, they're more likely to sign up for recurring gifts.

Show recurring giving tiers on a slide before service
Include slides before and after services highlighting the giving tiers for an ongoing campaign. This shows people where to start and where their gifts are going. Here's an example of what that could look like for a church's ongoing outreach campaign that helps fight hunger.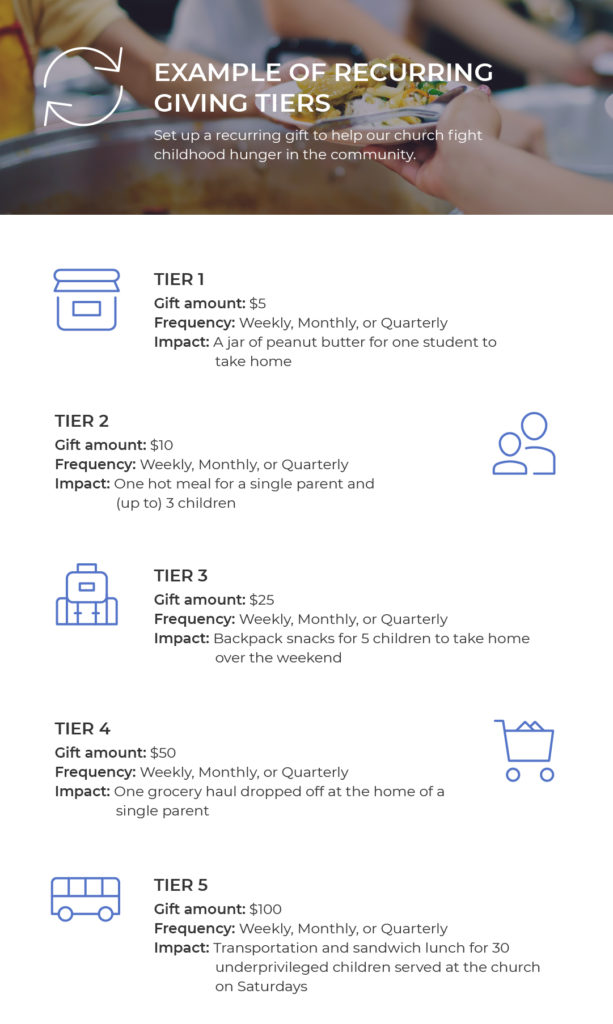 ---
Next Steps
List the different platforms that you can promote giving on and decide where to emphasize recurring gifts. Highlight it on 1 or 2 platforms, or during the activities and services when it makes sense. Then, evaluate the results and pivot based on those outcomes.
Updated