Adding a simple Impact Report to your Giving, Signup, or Special Cause forms can help members or parishioners engage with your mission and tell a visual story.
When it comes to recruiting volunteers, or raising funds, its just as important to share your why as it is to share your how.
By utilizing Impact Reports for funds, then sharing them on your forms, you can add more detail about the mission or use of those funds to emphasize why viewers should get involved. This is a donor facing feature where you can even include a visual motivator like a progress bar, or breakdown of the gift using charts.
Donors will be able to click through a series of Impact Reports (if applicable) by using arrows at the top of the Impact Report tab.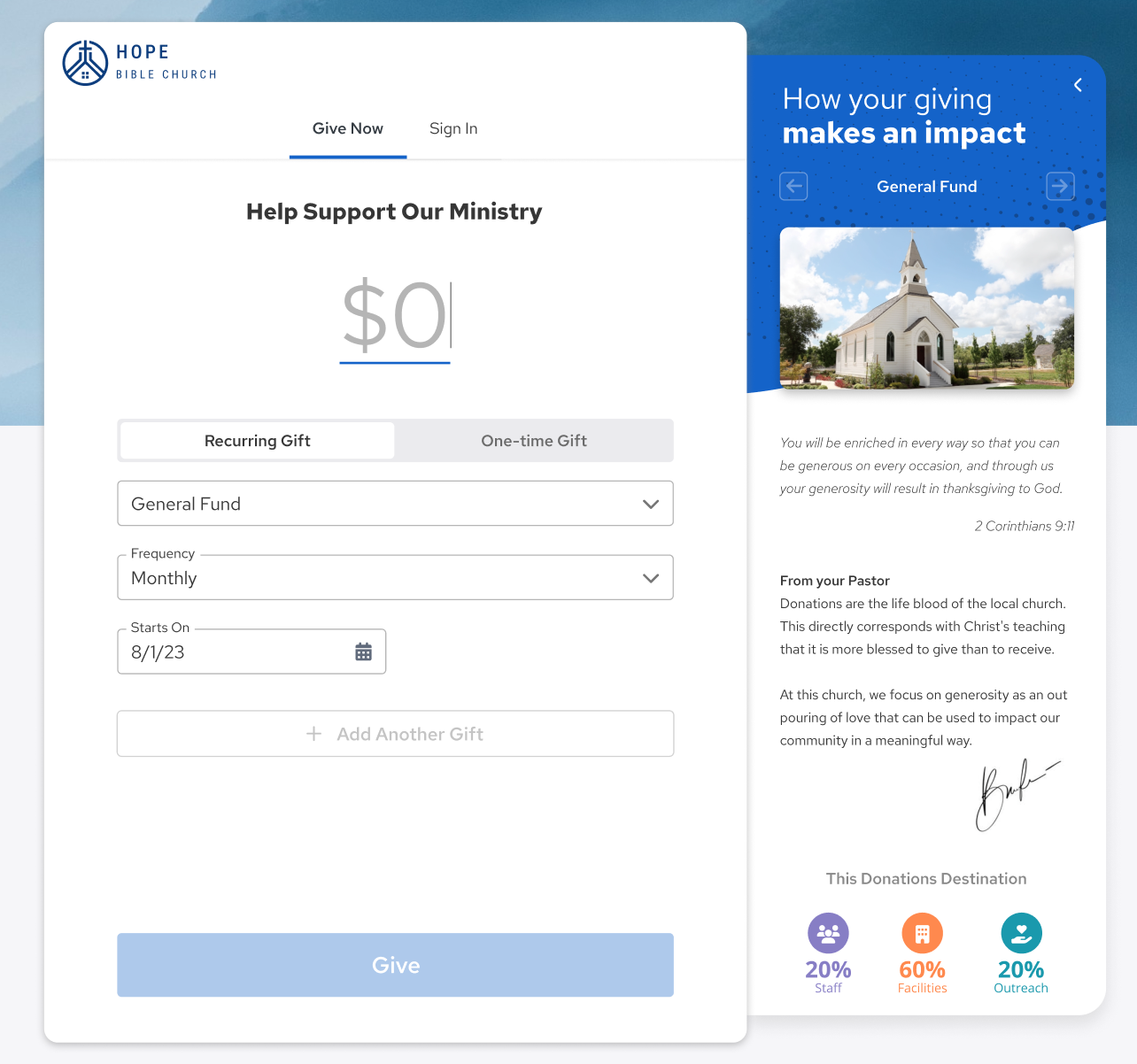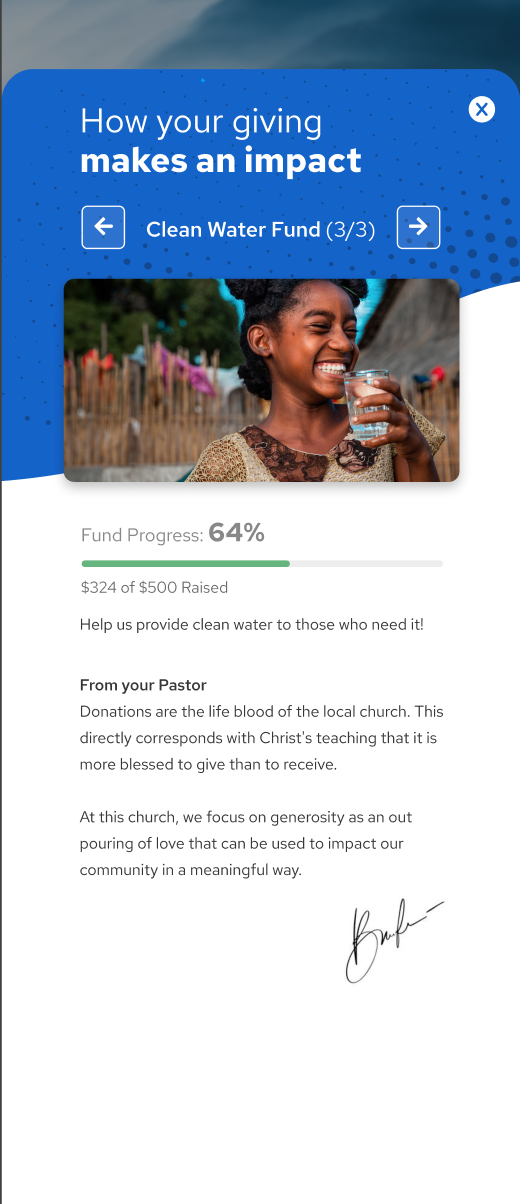 Let's take a look at how simple it is to add these Impact Reports to your Funds and Forms.
How to Create an Impact Report in Fund Management
First, we need to add Impact Report details to your Funds in Fund Management.
1. You can start by creating a new fund, or editing an existing fund.
2. Once you've selected a Fund, you'll notice a tab called Impact Report: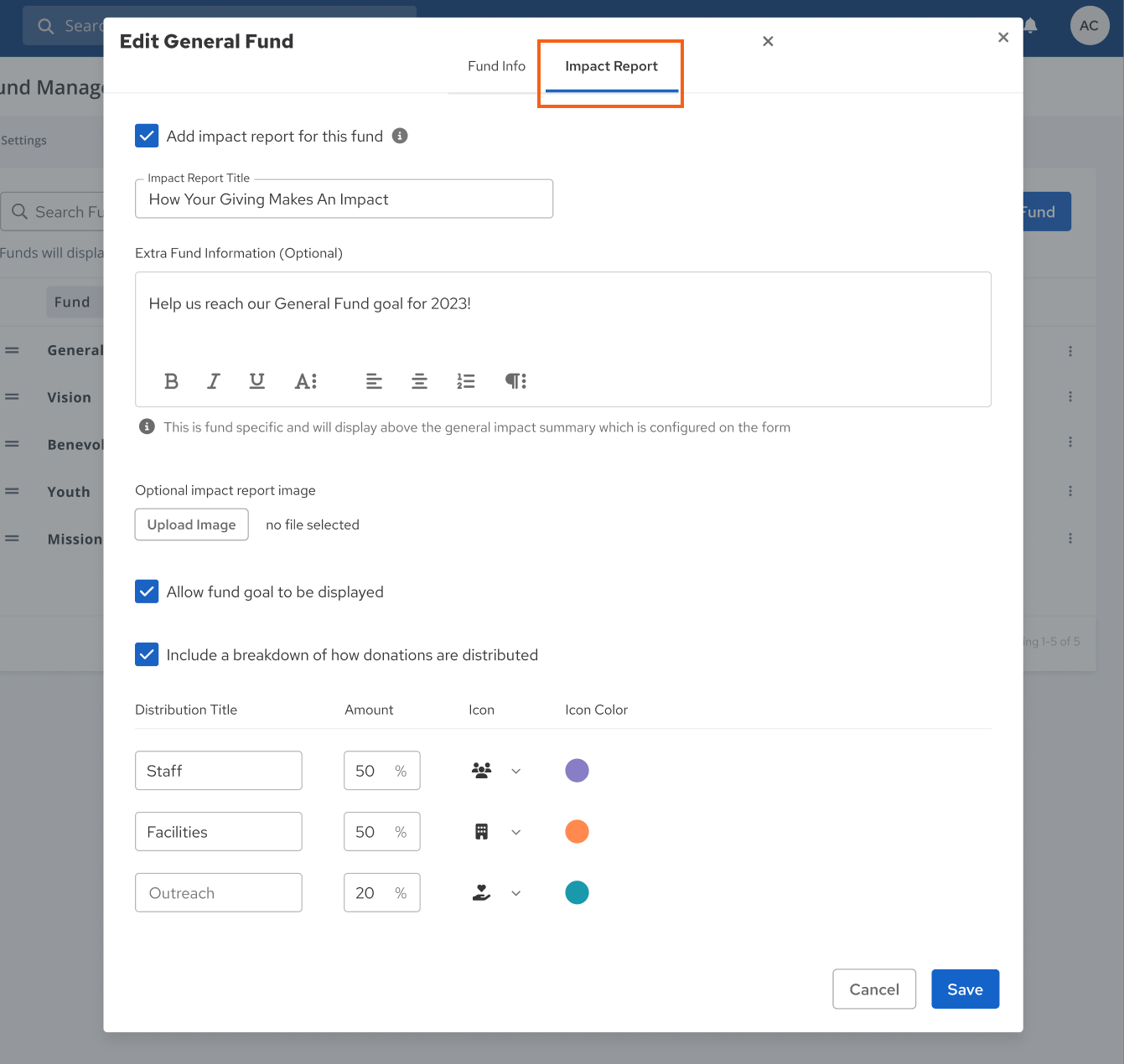 3. Check the box to Add Impact Report for this fund and begin customizing your report. Be sure to add an Impact Report Title as well as optional Extra Fund Information.
4. If your fund has a Fund Goal, you can select to have it be displayed in the report and/or include a breakdown of how gifts are distributed (this is a great option for funds are used for a broad variety of items like a General Fund, Operating Fund, or Missions). Customize the Title, Percentage, Icon and Color for each distribution.
Here is how those customizations will appear on a live form:

How to Display an Impact Report on Forms
You can display an Impact Report on most of your Giving or Payment Forms**, here's how:
1. Create or Edit the your relevant Form, and go right into that form's Form Properties.

2. Select the Impact Report tab, and click Enable Impact Report.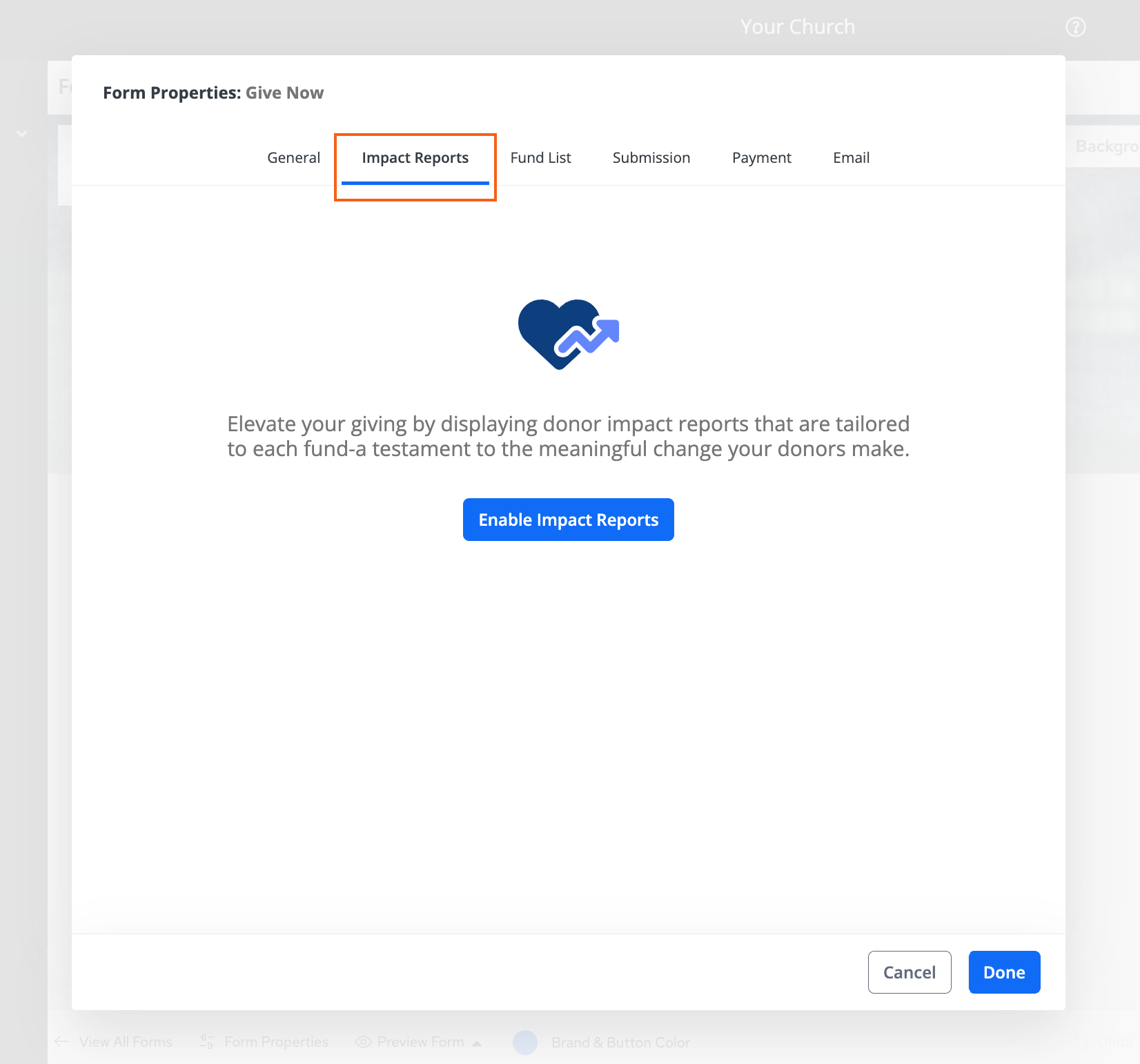 3. Once enabled, you'll be able to select what you'd like to display on the form. .
The Impact Summary will be applied to all funds as donors cycle through the Impact Reports on the Giving form, so keep this part general. An overview of your church's mission or a theme verse is a great option here. You can even save summaries as templates for your convenience.
You'll also have the option to Show Extra Fund Information here. That information will be unique to each fund, pulling from the details entered in Fund Management.
If you've opted for your fund to have a Fund Goal, you'll be able to display that by checking the box to Show Fund Progress.
Additionally, if you created the Fund Breakdown in Fund Management, you may choose to Show how donations are distributed. This will add small colored charts to the Impact Report to represent the Percentages and Distribution Titles assigned in Fund Management.
Lastly, you have the option to Hide Impact Reports for certain funds if you do not wish to show them on the form.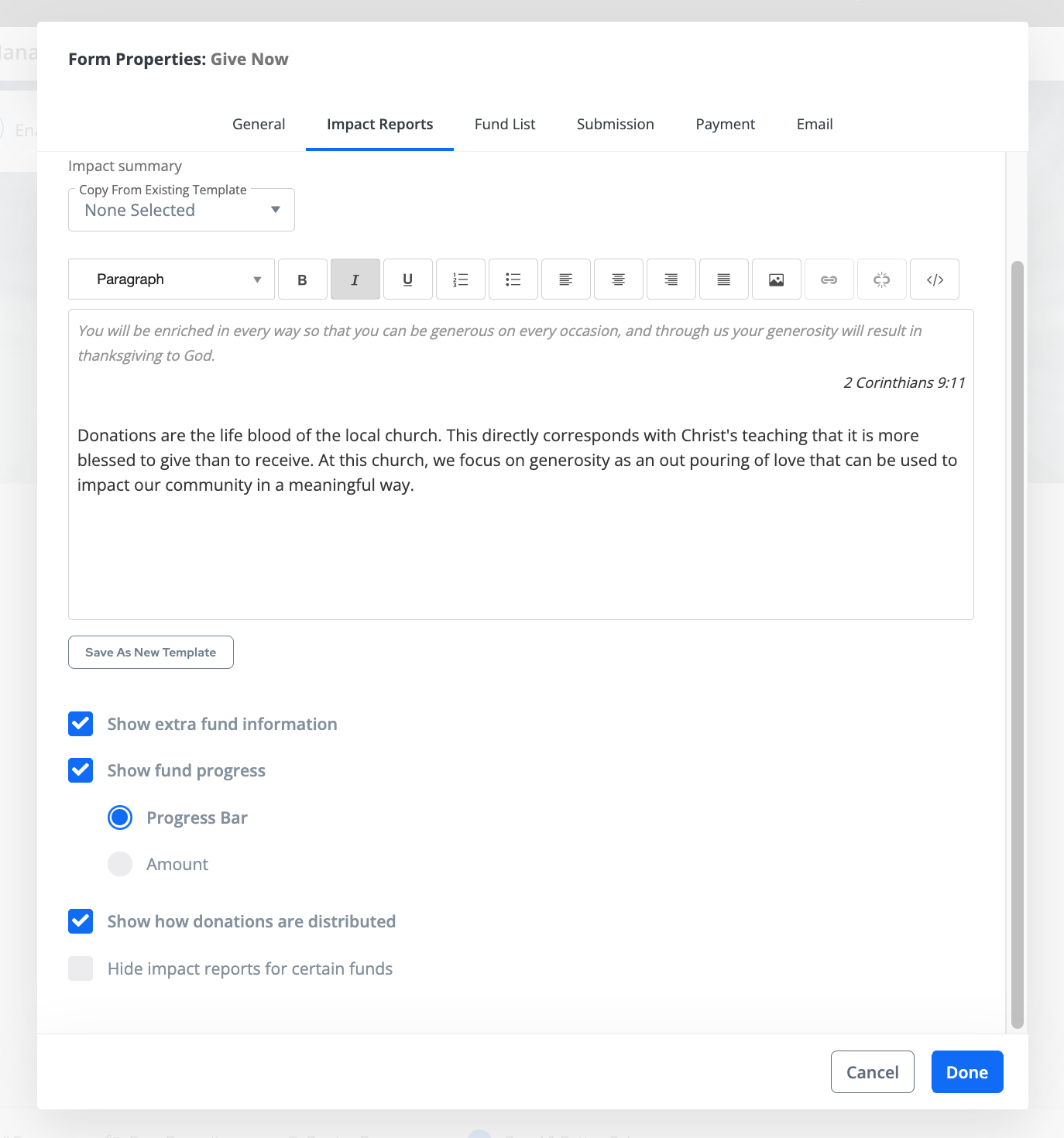 **Impact Reports cannot be added to the following Form Template Types:
-Signup Slots
-Fund List
-Second Collections
-Pledge Cards
Helping donors understand the full impact of their generosity is a proven way to increase giving. Give this Impact Report a shot!
Updated