One of the main goals of the giving platform is to provide our organizations with excellent support. We try to make our product as simple as possible, but we recognize there will always be questions.
Our support hours are Monday - Friday 9am-6pm EST.

Whenever you have questions, you can contact us through one of these options:
Chat
We have our chat feature available on every page of our website. Send us a quick message, and if we're in the office, someone from our team will respond to your question within a couple minutes. If it's after hours, still send us a message and we'll get back to you the next business day. We're always keeping an eye on things, so we'll be sure to notice if your message is urgent. Rest assured, help is on the way!
Support Ticket
In the top right corner of your manager portal, click the ? to submit a support ticket.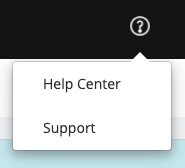 Phone
Need to speak with someone on the phone? We'd love to have a call with you! Contact us through one of the three options above, and we'll set up a call time that works for you and someone from our team to get on the phone! Or see the lower right hand corner of your manager log-in page for a direct phone number option.
😄 We're looking to forward to talking with you! 😄
Updated