How to Navigate
Your The Giving Block Dashboard is where you can access all your crypto and stock donor and donation information. You're also able to pull weekly, monthly, and all-time donation reports. In this article, we will provide you with step-by-step guidance on how to navigate the Dashboard menu; enabling you to find what you need quickly and easily.
The Overview Section
This is the section you will be automatically taken to when you login to The Giving Block's dashboard. Please read the brief descriptions below for more information on what is shared in each tile.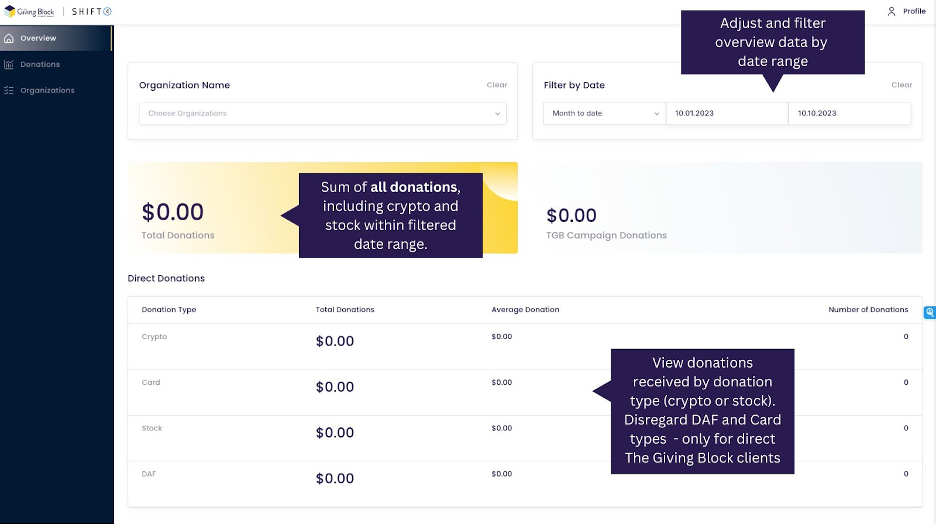 At the top of this section, you will see the option to Filter By Date. It automatically defaults to month to date, but if you click the dropdown, you can customize what date range you'd like to see (including all time).
The Total Donations amount is the total your organization has received from direct donations based on the time frame you selected.
Direct Donations displays the type of donations received by donation type (crypto and stock).

Total by Currency

- This section displays totals by each type of cryptocurrency based on the time frame selected.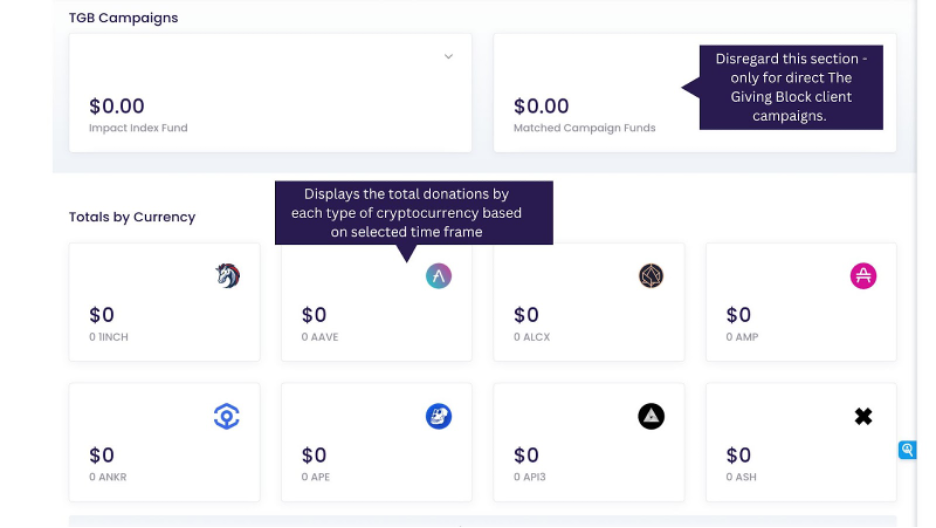 The Donations Section
When you click on the menu on the left-hand side of your screen, you'll see the "Donations" section. This section has two main functions:
1. Transactions
Each crypto and stock transaction made directly through your donation form can be viewed in this section of the dashboard. Transaction details include transaction id, donor name, type of currency, etc. You can filter by date or donation method, as search by donor name. When you click into each transaction, you'll see more details including donor details, the gross / net amount, and any donation notes.
2. Transactions CSV Report
Within the "Donations" section, you'll also see the option for Transactions CSV report. This will allow you access and download a comprehensive transaction data including donor name, donor email, donor address, and more. To pull a transaction report, follow these steps:
Find the navigation menu on the left, click Donations
Next click Transaction CSV Report
Choose the desired timeframe for the report you wish to view
Click on the Download Report button
For easier analysis, consider filtering your CSV report based on the "Payment Type" column. This will allow you to specifically view the payment types such as stock or crypto that you are interested in examining.
Common Dashboard FAQs
How to Get Access to the Dashboard:
Unable to access the Dashboard? Simply email support@givinghelpdesk.com, including the first name, last name, title, and email address of the users requiring login credentials and you should expect to hear back in 24 - 48 hours.


I Cannot Access Website After Bookmarking:
Please clear your cache. Re-entering the website https://dashboard.tgbwidget.com will also get you there.


Will I Receive Email Notifications?
Anyone set up as a user on the dashboard will receive an email and payout notification when a donation comes in.


How Do I Pull a Donation Report?
You can pull a donation report for any time period by following the steps under Donations -> Transactions CSV Report above. The CSV includes transaction dates, amount donated, payment type, donor information (if applicable), donation notes, the website origin of the donation, and much more!
Updated