Customize your Kiosk for your ministry's preferences
Hooray! 🎉 You've chosen to offer your givers yet another convenient way to support your ministry! Let's get you setup and ready to accept gifts, event registrations, and more!
Platform Options
You'll complete the initial steps to setup your Kiosk in the Manager Portal of your Giving Platform.
1. On a computer, navigate to your Giving Account Settings by clicking the configure wheel icon in the top right corner of your manager portal.
2. Select the Kiosk card.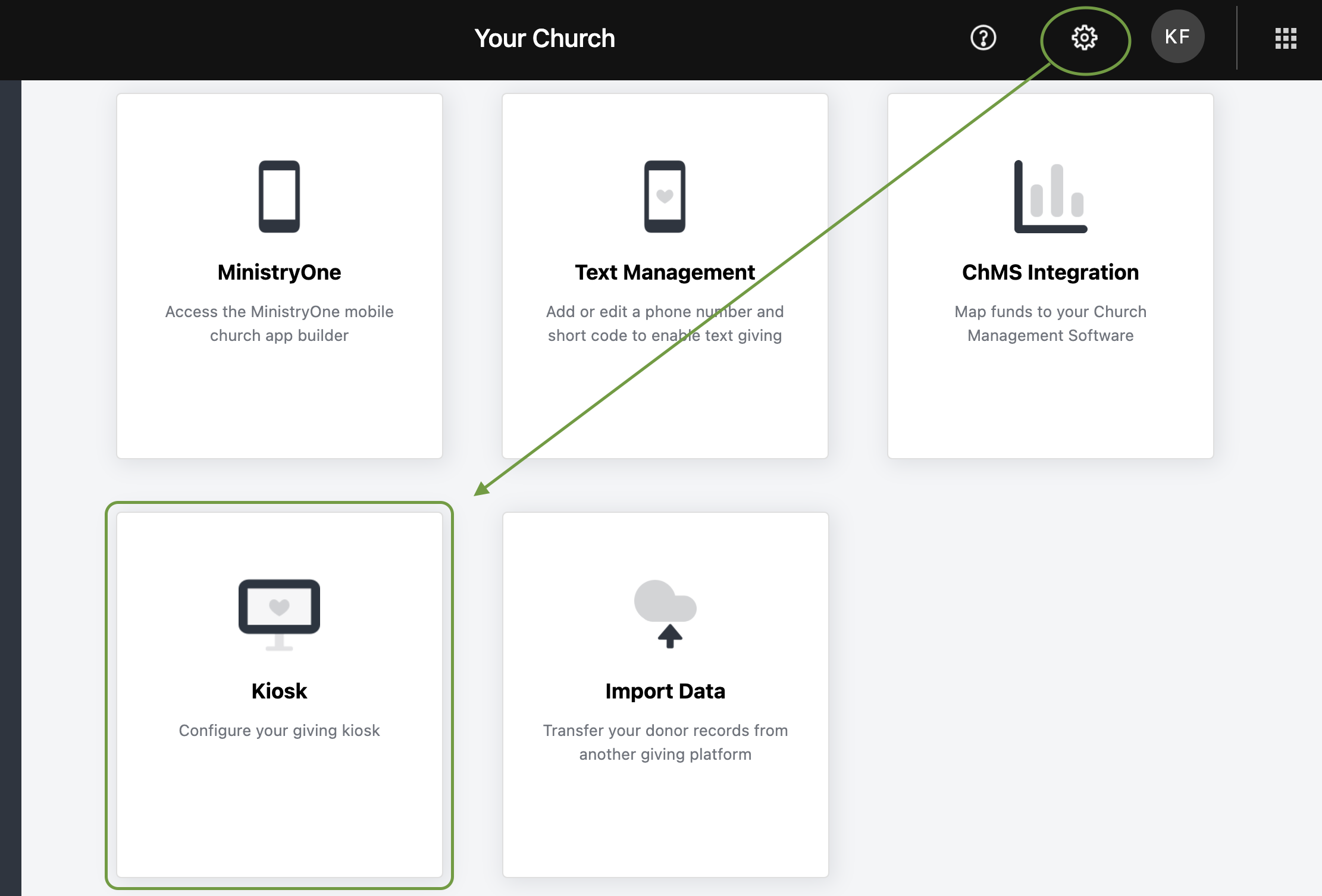 3. From here, make selections to customize your Kiosk application including images and user options (see below for a description of each option).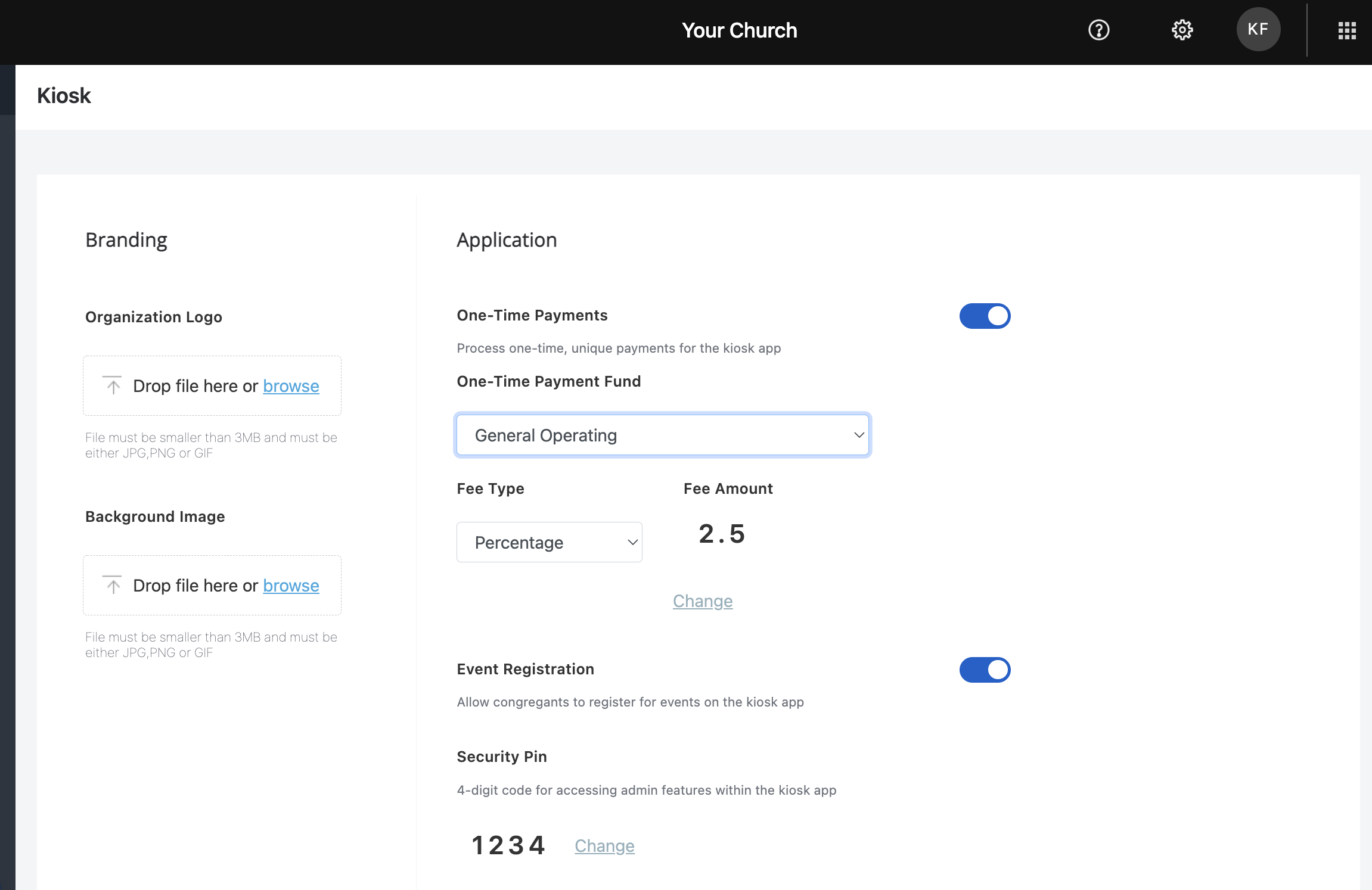 Organization Logo and Background Image
Browse your computer or drag-and-drop image files to add an organizational logo and background image for your kiosk, like in the example below.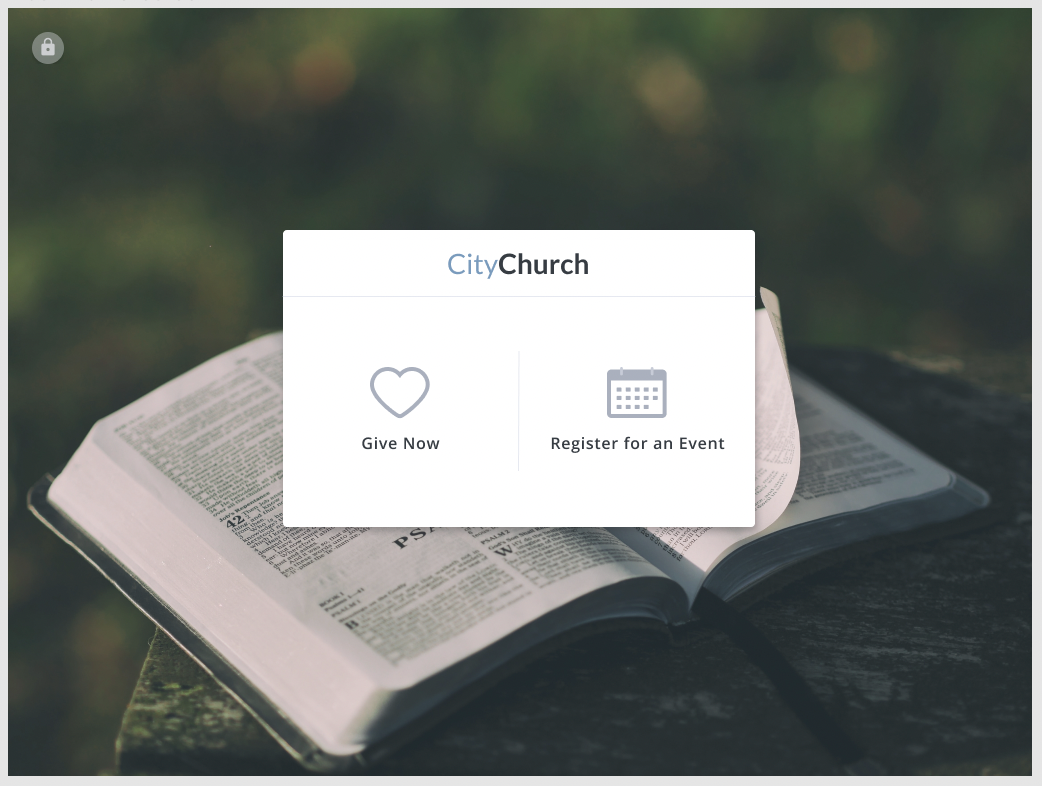 Turn on: One-time Payments
Allows admin to process unique, one-time payments (enter a dollar amount, swipe card, complete transaction) ideal for selling merchandise, etc. You can set the fund you'll want those one-time payments to drop into, as well as the fee coverage percentage.
Turn on: Event Registration
Event registration forms that are live in your Form Builder can be made available on the Kiosk app for member's convenience. Note: Keep in mind that longer registration forms may not be ideal for kiosk usage.
Set: Security Pin
This pin number will allow your kiosk screen to be locked on a certain form or screen. For example, if you have a kiosk in the Children's area of your church, you can lock the kiosk screen on a "Camp Registration" form for the few weeks that you're encouraging parents to register.
---
Application Options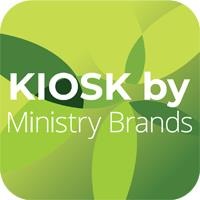 These next few steps will be completed on your iPad, in the Kiosk application.
1. Log into the application using your Giving Platform Manager credentials.
2. Select which Mode you'll need that Kiosk to be in (see below for a description of each option).
Kiosk Mode
By selecting the Kiosk mode, your screen will allow givers to choose what action they'd like to take. This is ideal for the lobby of your ministry where givers can consistently plan on giving, or you'd like to provide the option for members to register for upcoming events.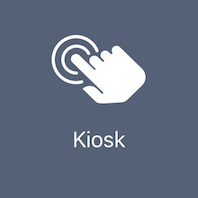 Based on the Kiosk settings in your Manager Portal, if Event Registration is turned off, the only option givers will have is to Give Now:

By default, the Give Now option on the kiosk application is your primary giving form linked to your giving portal. If you have Locations enabled, you'll be prompted to select which location giving form will display. The same Fund options and Form Properties you've selected will automatically carry over to your kiosk form.
If Event Registration is turned on in your main Kiosk settings, your main screen will allow givers to Give Now OR Register for an Event:

If they select Register for an Event, the screen will show all upcoming event registration forms currently live in the Forms Builder of your Giving Platform. Note: forms must be categorized as "Event Registration" to appear.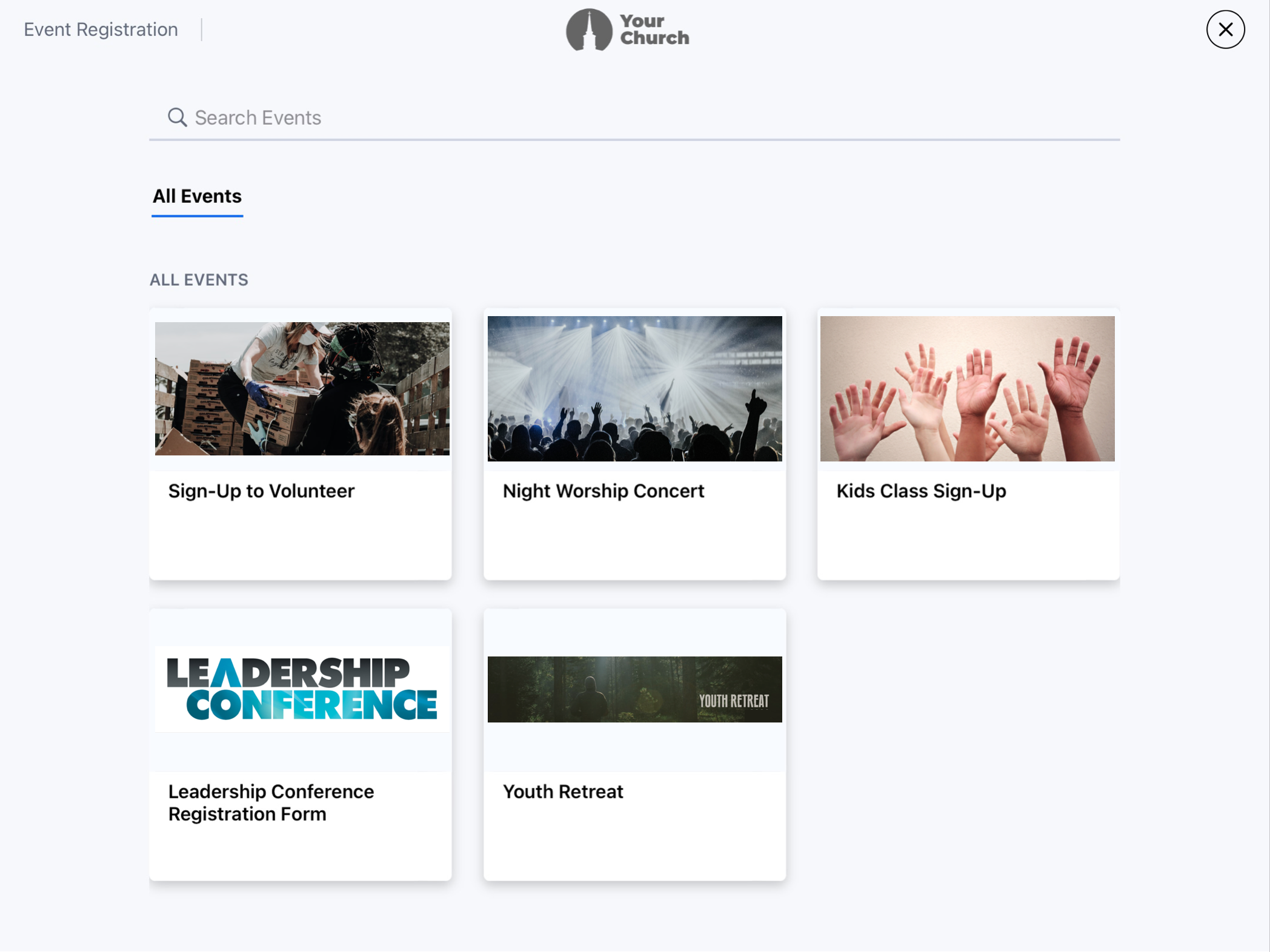 Giving and Registration forms will be completed exactly the same way they would be on any other device. Be sure to attach the card reader if a payment is required.
One-Time Payment Mode
One-time Payment mode is ideal for running one-time unique transactions, like merchandise sales, or in-person fundraisers, for example. Similar to a cash register.
The Fund that these payments apply to should be selected in the Kiosk settings in your Manager Portal, along with a fee coverage amount, if applicable.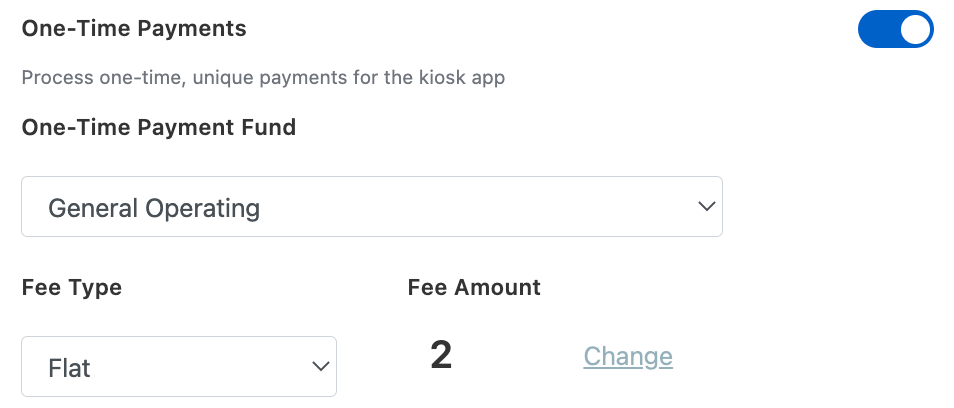 How to process a One-Time Payment
1. When ready to process a transaction on the Kiosk, the admin managing the kiosk will enter a dollar amount (price of an item or donation amount).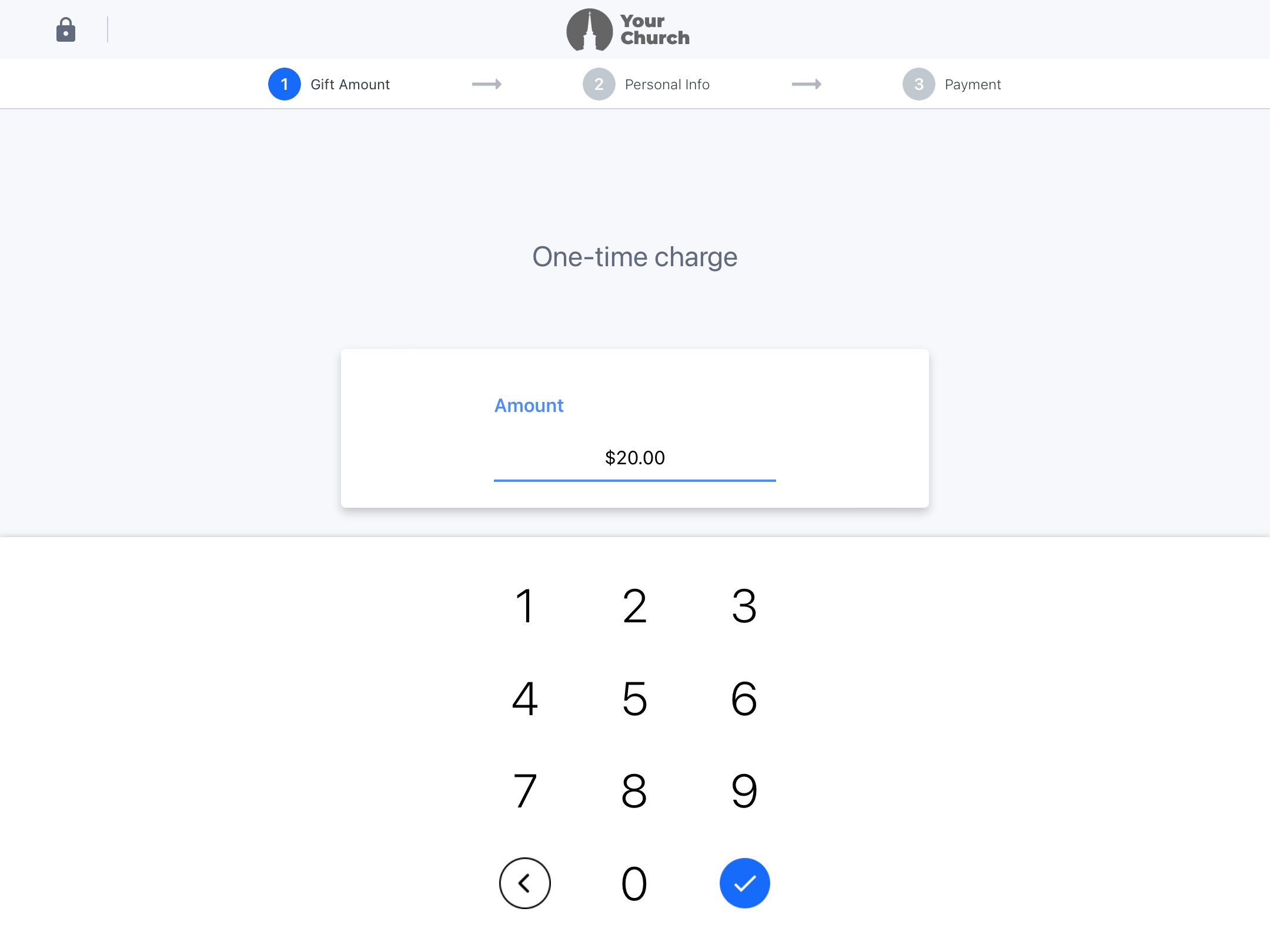 2. The next screen will request some information to help you identify the transaction in your reports. Press Pay when ready.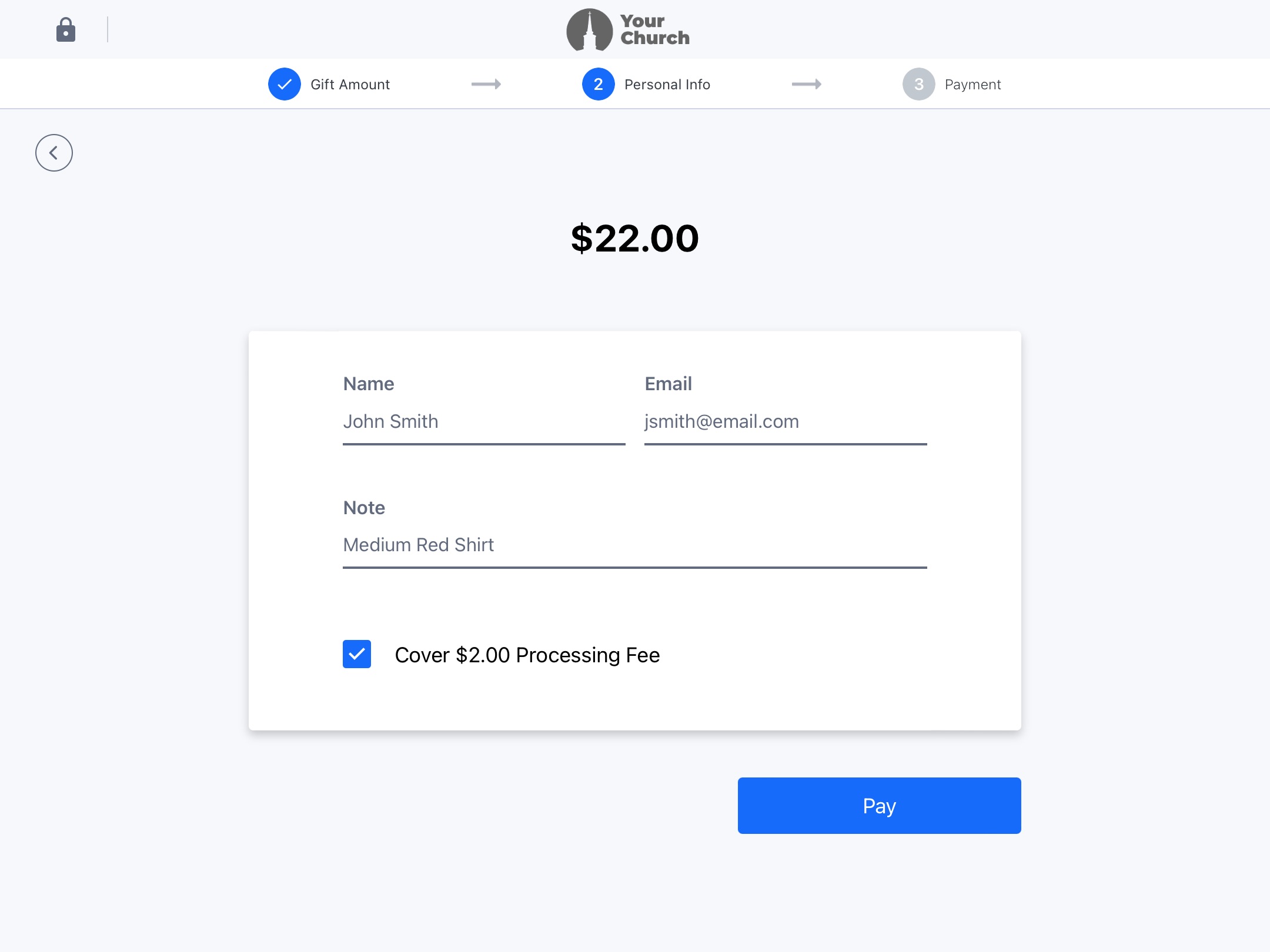 3. Lastly, you'll swipe the credit card to process the payment.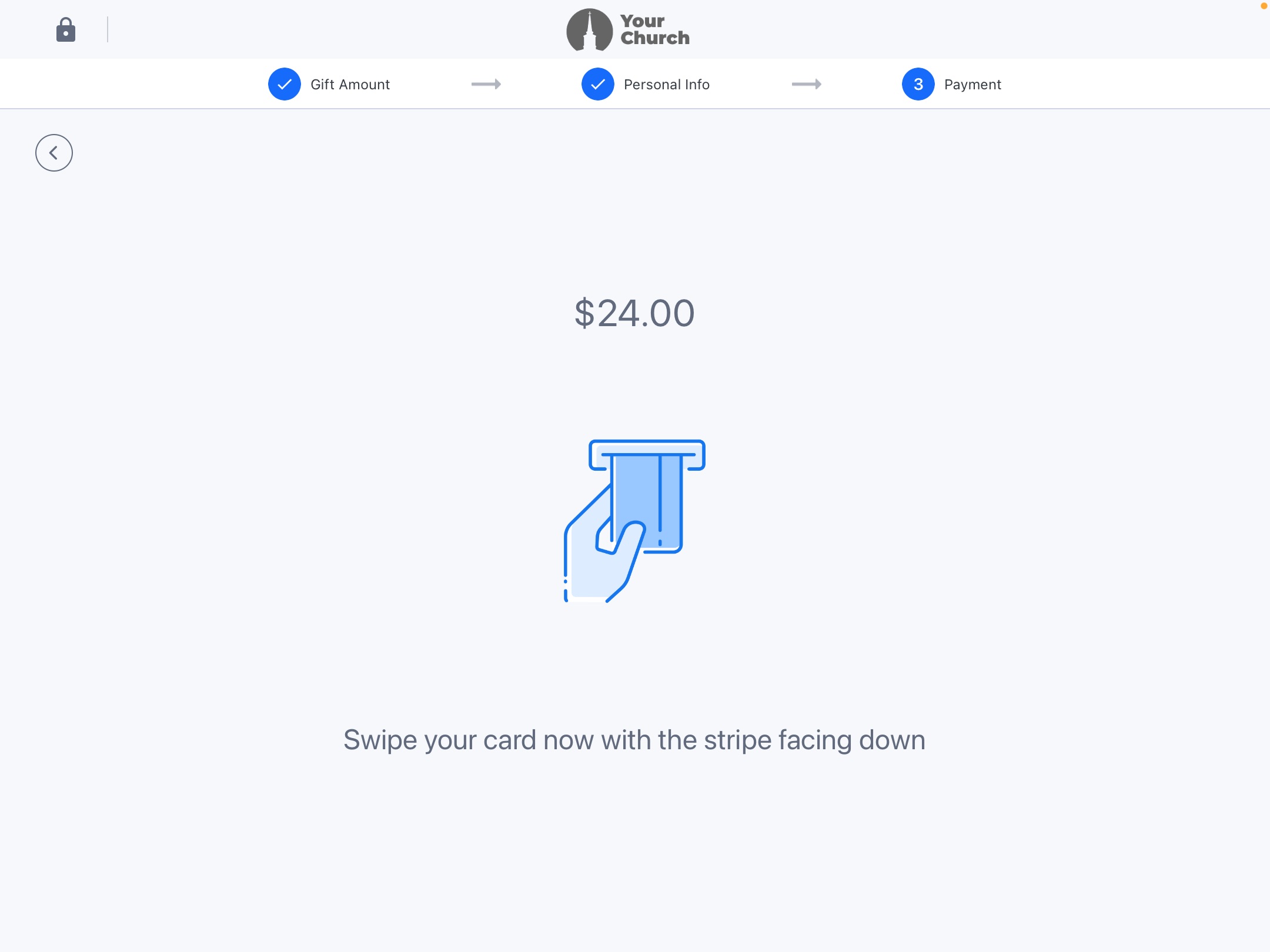 Form Lock Mode
Form Lock mode will allow you to lock the screen on one specific form. This is ideal for Event Registration, Prayer Requests or Contact forms displayed on a lobby kiosk.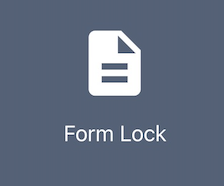 1. Select a form to lock the application screen into. You can search by title, or filter by form category.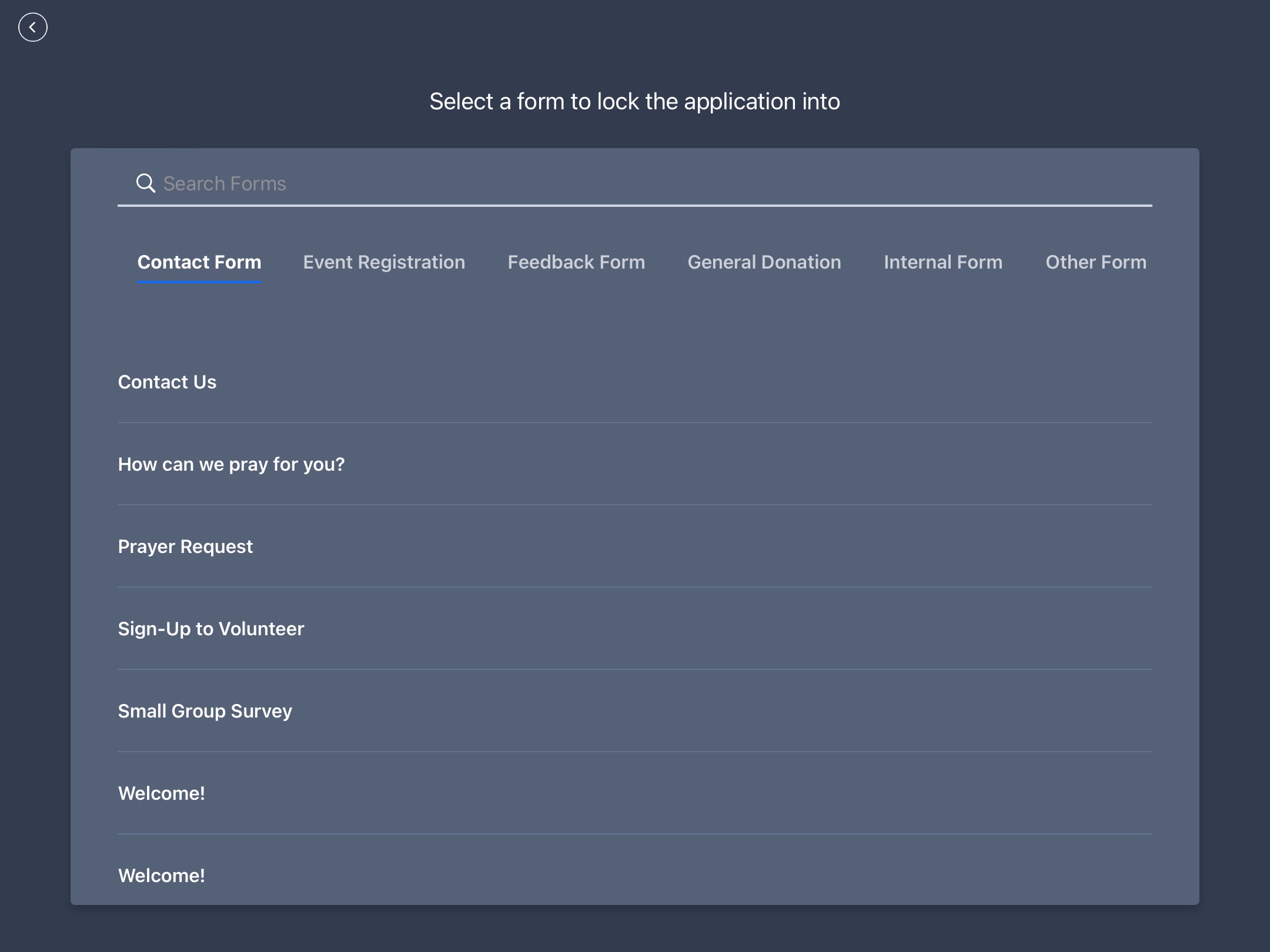 2. Once you've selected a form, click Yes in the bottom corner to confirm your selection.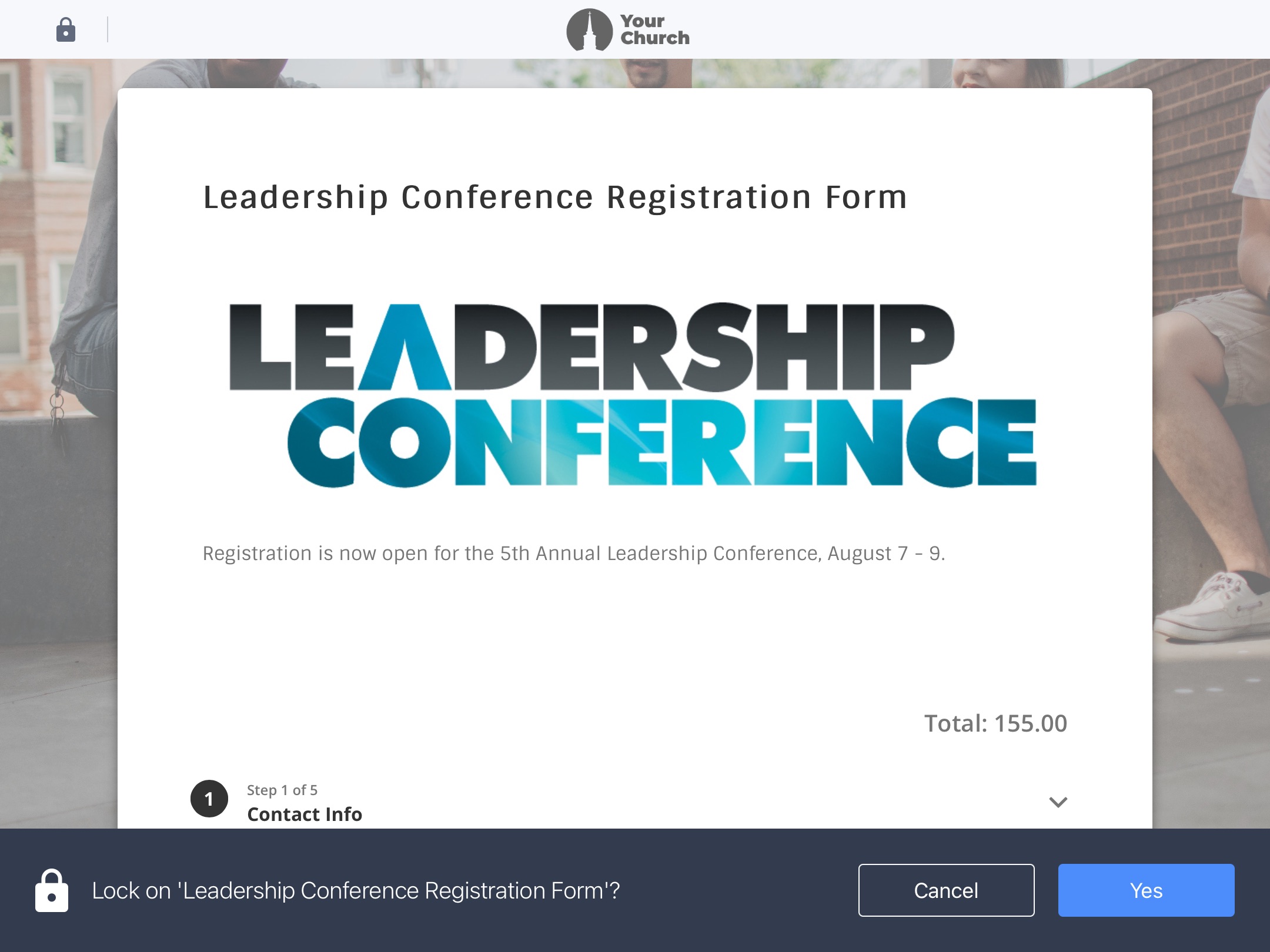 3. Display your kiosk where you'll want to direct registrants. Be sure to attach the card reader if a payment is required. Note: Keep in mind that longer or multi-step registration forms may not be ideal for high traffic areas.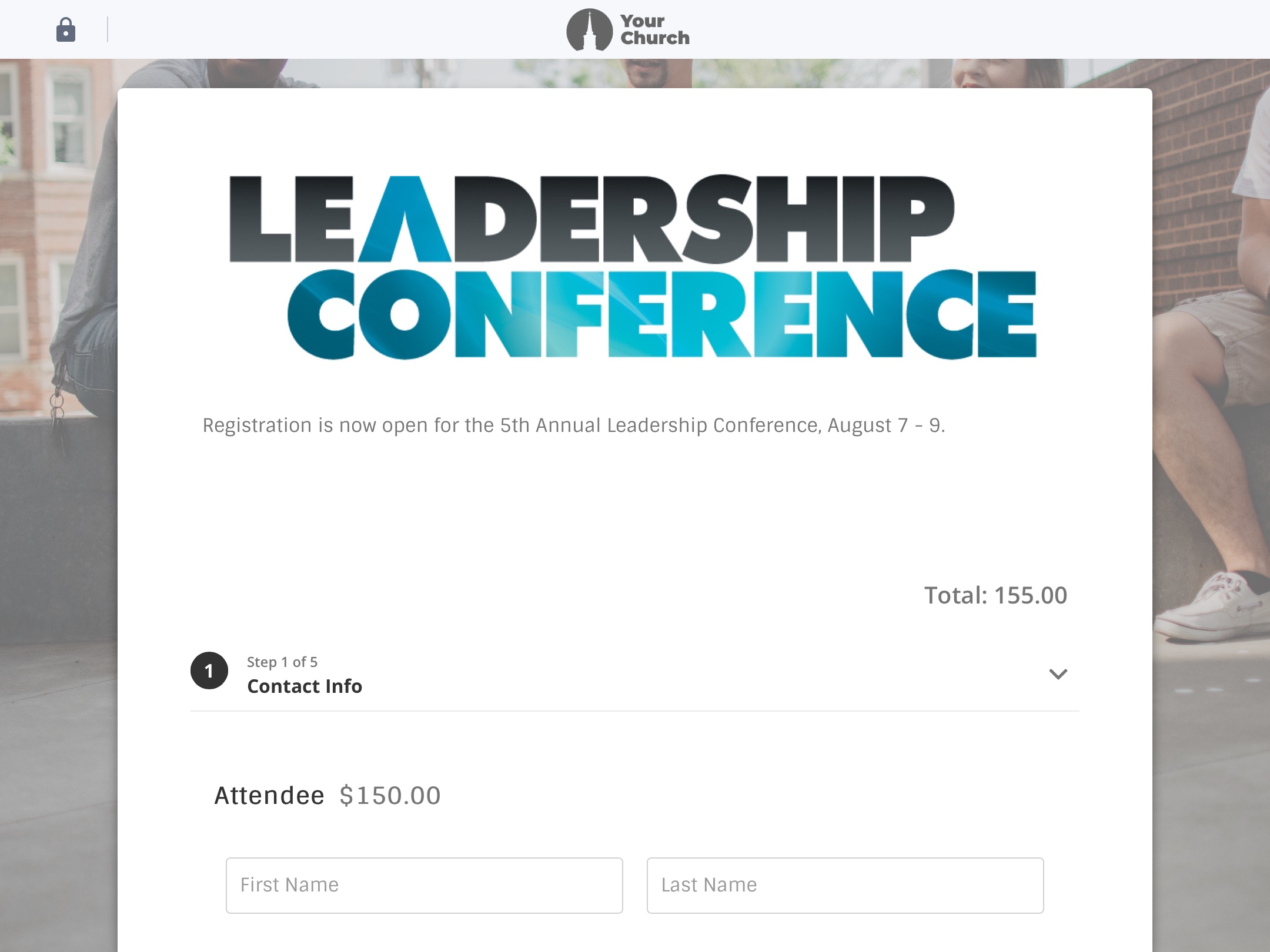 As always, Responses for event registration can be found in the Form's Builder in your Giving Platform.
As you may have noticed, the Kiosk application is Forms dependent for your convenience. You can make immediate changes to forms, keep track of responses in real time, and so much more! If you'd like to dive deeper into Forms, click here or schedule a coaching call with our amazing Success Team.
Updated